IMO OMG ACT AGORA
12.12.2022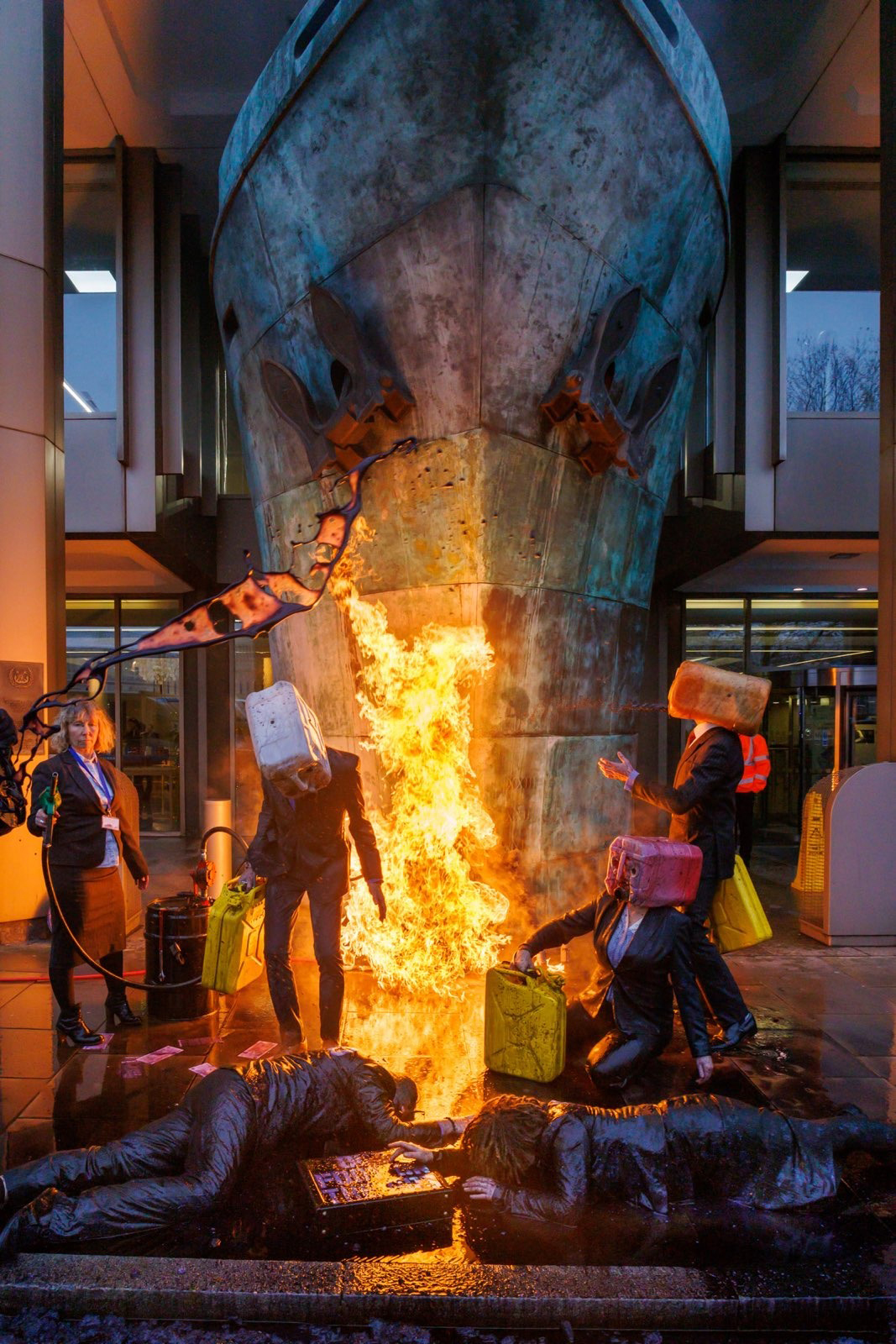 Today is the first day of the Marine Environment Protection Committee meeting, at the UN International Maritime Organisation (IMO) in London. And it's the first time the IMO has welcomed delegates through its doors since 2019. We felt Ocean rebellion should be there to add our own welcome, after all a lot of the delegates came a long way.
When the delegates arrived we greeted them with flames and a black carbon fog of Heavy Fuel Oil (HFO). Then we added an oil slick with three Oil Heads vomiting oily gunge. Two dying suited figures crawled through the oil clutching their briefcases. One case said 'ON A HIGHWAY TO HELL' and the other 'OUR FOOT ON THE GAS', paraphrasing the recent words of Antonio Guterres, UN Secretary General.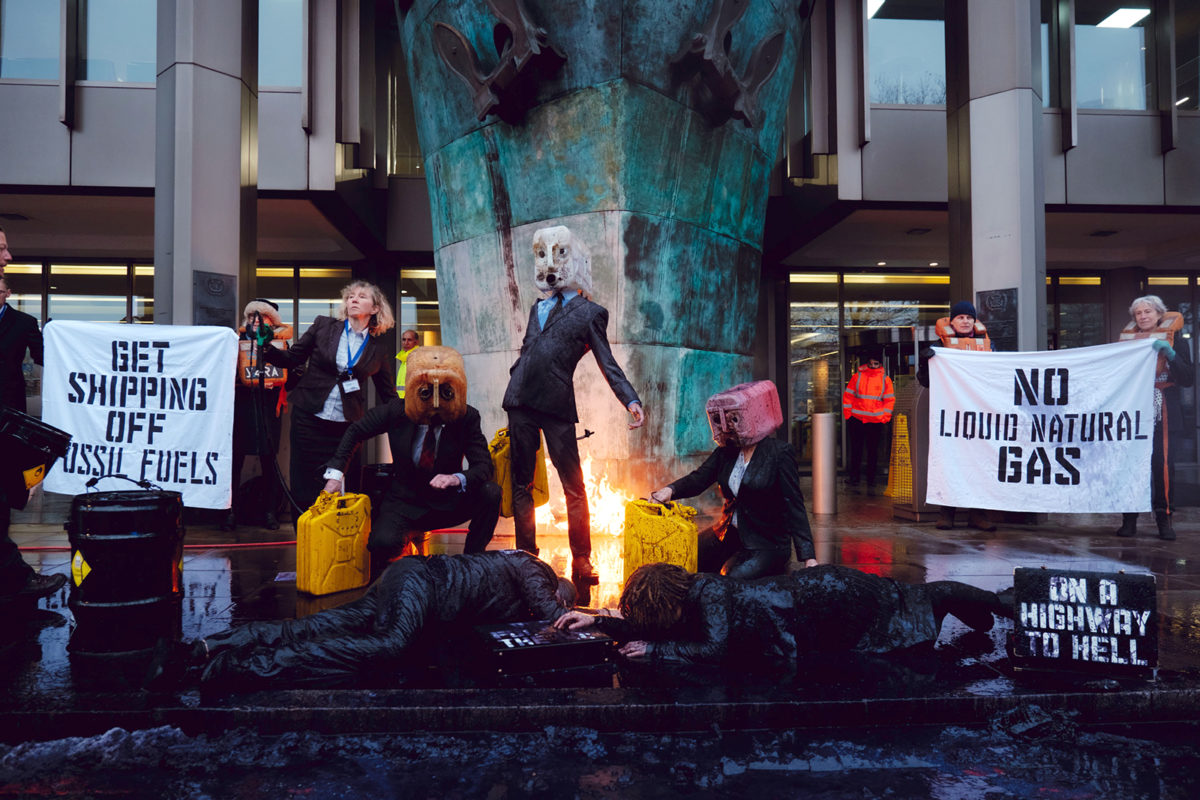 O destino do Oceano depende de todos nós.
As nossas intervenções dependem do seu apoio.
The dying (then dead) figures illustrate how the IMO's refusal to tackle shipping pollution ahead of 2030 is destroying the Ocean and any chance we have of keeping anywhere near to the 1.5C demanded by the Paris Climate Agreement – an agreement brokered by the UN but one which one of its own bodies (UN IMO) can't be bothered to act on.
And the Oil Heads tell the story of how the IMO still refuses to take simple actions like slow steaming, using cleaner distillates instead of HFO and less unnecessary shipping, preferring instead to listen to the oily advice of the fossil fuel lobbyists who always ask for 'business as usual'.
While the oil heads ejected their vile HFO byproduct a group of seafarers wearing life jackets unfurled two banners "OBTER TRANSPORTE DE COMBUSTÍVEIS FÓSSEIS e "SEM GÁS NATURAL LÍQUIDO. The latter refers to the latest shipping industry 'answer' to emissions – Liquid Natural Gas (LNG). The industry prefers the acronym LNG because it hides the fact it's a fossil fuel, a fossil fuel that leaks methane rather than CO2. Methane has 80 times more 'heating power' over a 20 year period than CO2 and will accelerate climate chaos – once again showing how little shipping cares about the climate and how much it loves the fossil fuel industry.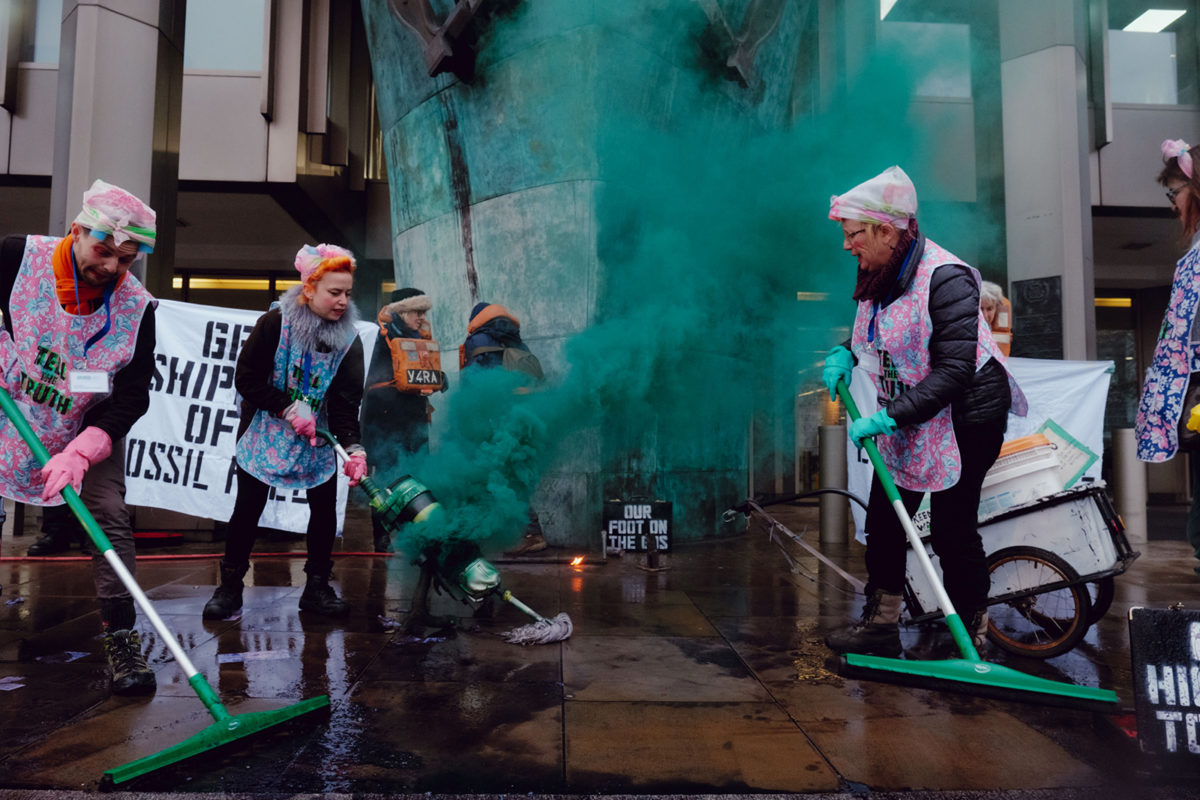 Depois chegaram os "lavadores sujos" para limpar a sujidade das cabeças de óleo com a sua "lavagem verde".
Paid off by the shipping industry the 'dirty scrubbers' revealed how the IMO is allowing the fossil fuel industry to continue burning HFO at sea. HFO is a fossil fuel distillation byproduct that's so toxic its use is banned on land – it's highly acidic Q3, full of nitrogen oxides (a major cause of respiratory diseases) and has been linked to 400,000 premature deaths worldwide per year (at a health cost of $50 billion).
The IMO is failing in its duty to meet the Paris Climate Agreement. It must act now to halve shipping emissions before 2030, advise against any fossil fuel subsidies and demand member states start severely taxing shipping fuel. All fossil fuel lobbyists must be ejected from committees and black-listed for their consistent bad influence on policy making, all IMO processes must be made transparent and open to scrutiny.
The IMO is currently revising its existing climate strategy.
The IMO only aims to halve shipping emissions by 2050. Delegates are meeting in London 12 – 16 December for the Marine Environment Protection Committee (MEPC 79). The strategy revision is set to be concluded at MEPC 80 in 2023.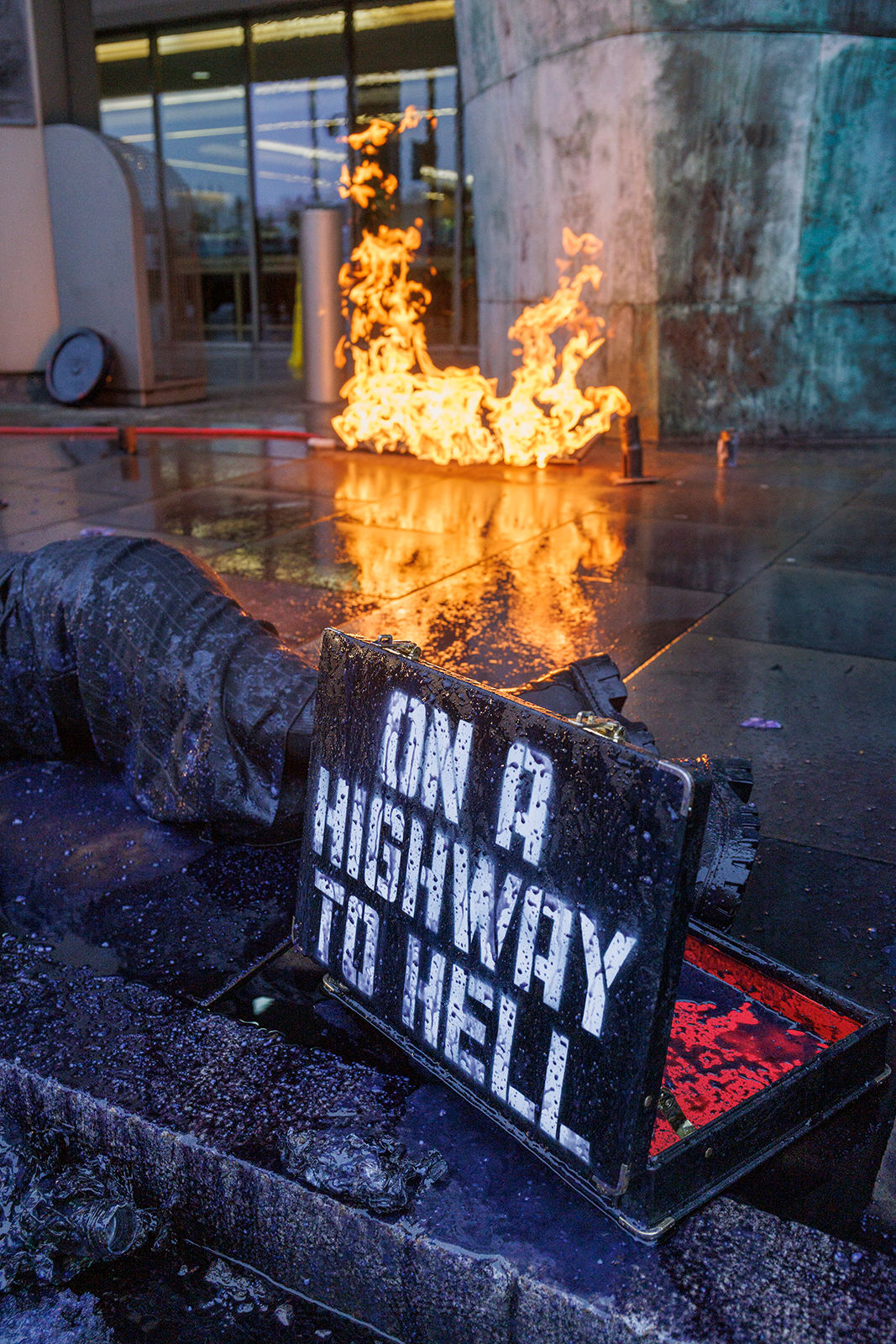 OVNI e a OMI
The IMO continues to ignore its duty to govern shipping emissions. By allowing ships to burn HFO the IMO is significantly increasing shipping's contribution to CO2 emissions rather than reducing them in line with the Paris Agreement. Furthermore black carbon from burnt HFO falls as soot and makes the ice caps absorb more heat and melt, further accelerating the terrifying feedback loops of planetary heating which are already killing millions and threaten all our lives.
O carbono negro é especialmente perigoso quando emitido por navios no Árctico. A OMI tem vindo a discutir regras para o carbono negro há mais de uma década e o melhor que têm para mostrar é um compromisso para uma mudança voluntária para combustíveis mais limpos. A indústria naval tem-se mostrado incapaz de se auto-regular e está a pôr em risco inúmeras vidas. Chegou o momento de uma regra vinculativa para enfrentar esta potente fonte de aquecimento climático.
The IMO must stop this stupidity now – voluntary switching has never worked, when has any industry ever volunteered any meaningful commitment to the environment? The IMO must act to end HFO use now – not just in the Arctic but everywhere – if it is illegal to burn a fuel type on land then it should be illegal to burn it at sea. After all, much of it eventually ends up in the same place – our lungs.
---
O destino do Oceano depende de todos nós.
Informaremos o que estamos a fazer para ajudar.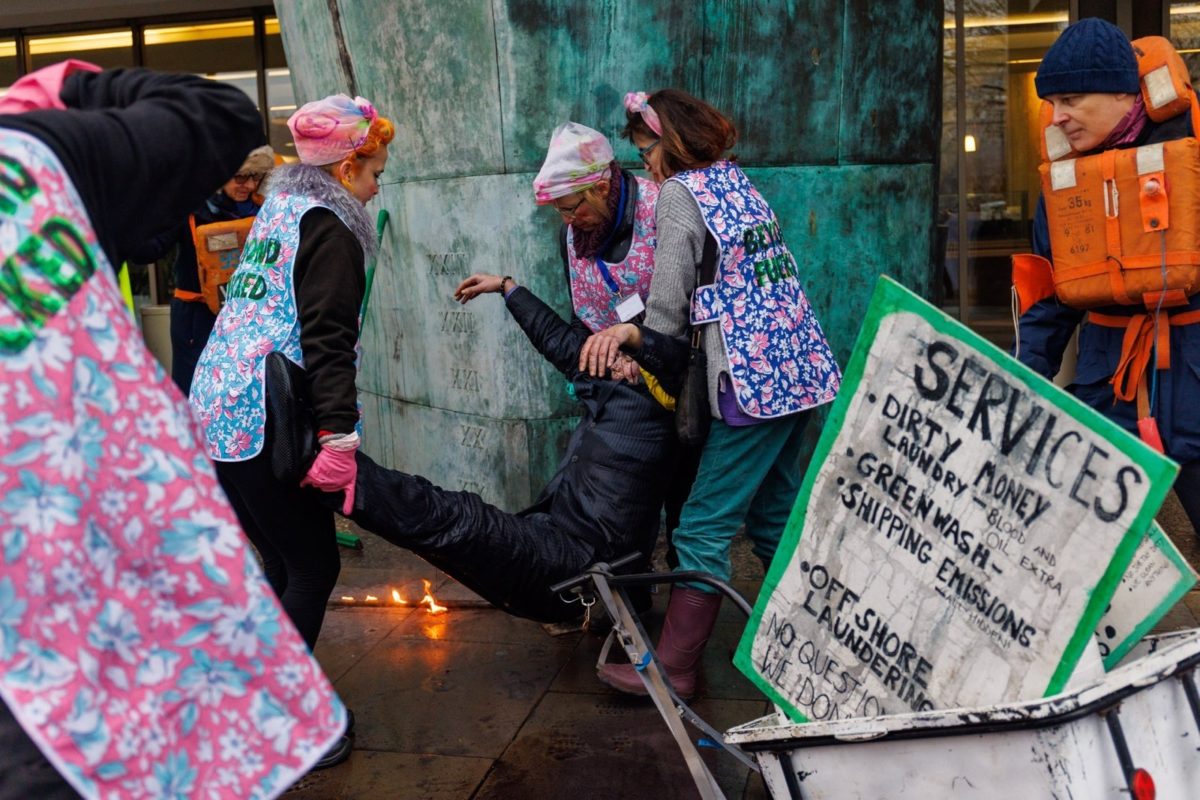 Scrubbers sujos
Os nossos lavadores sujos limpam frequentemente os segredos sujos das indústrias petrolíferas e marítimas. Parte limpadores, parte lavadores verdes são adeptos de enganar o público. Mas desta vez foram um passo mais longe.
Not only is the IMO greenwashing fossil fuel use, it's also proposing 'scrubbers' to do the same for ships. These scrubbers stop the worst HFO emissions entering the atmosphere: that's good right? Well not if the scrubber turns it into an acidic solution and pumps it into the Ocean. So while still polluting the air the IMO is also now directly acidifying the sea – that's surely the definition of greenwash!
So when our dirty scrubbers empty their buckets of non-toxic byproduct into the drain, it's a perfect illustration of what the IMO is doing with the toxic byproduct of HFO – emptying it straight into the Ocean. The IMO's 'solution' is a toxic solution.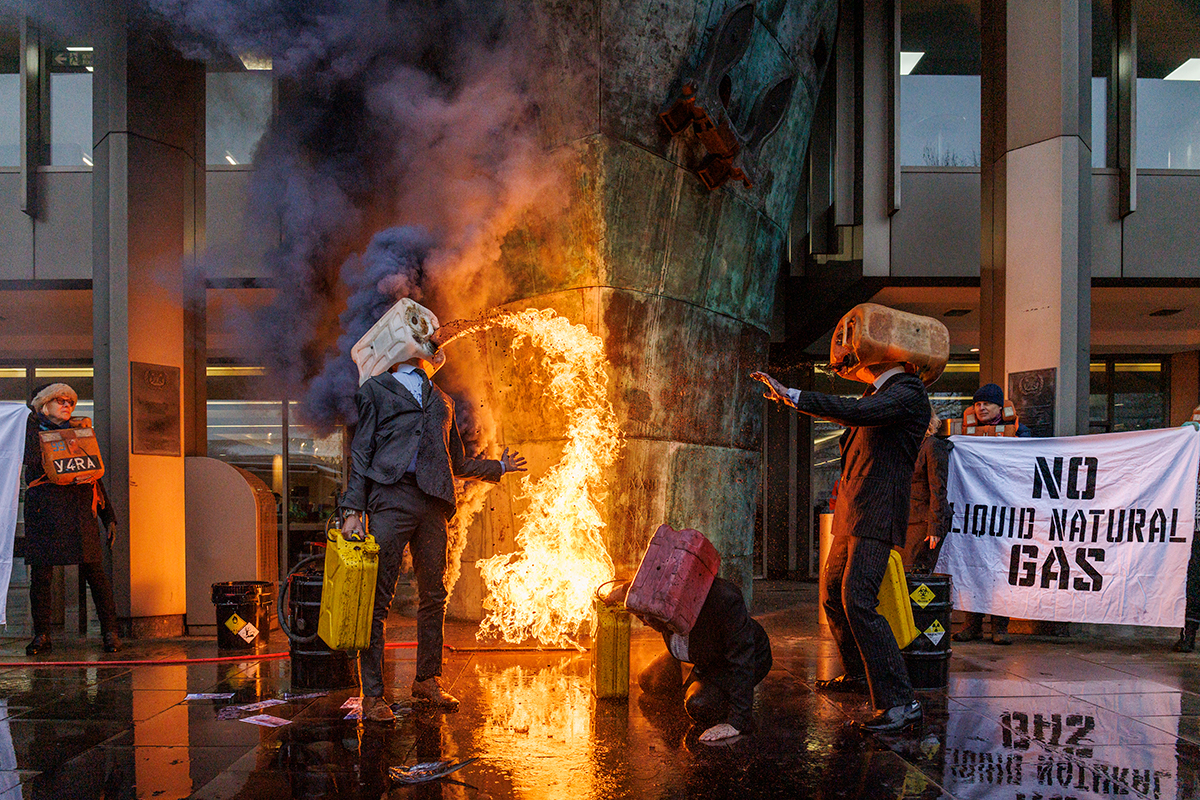 Gás Natural Liquefeito (GNL) - os factos
O GNL é um combustível fóssil que, quando extraído, transportado e queimado como combustível marítimo, derrama metano para a atmosfera - um perigoso gás de aquecimento global que está acabado 80-vezes mais aquecimento climático a curto prazo do que o dióxido de carbono.
O Painel Intergovernamental sobre Alterações Climáticas (IPCC) da ONU identificado cortes rápidos das emissões de metano como uma das principais prioridades, a fim de limitar o aquecimento global a cerca de 1,5°C o mais próximo possível. Os IPCC's último relatório A concentração na mitigação do clima torna claro que o gás fóssil sob a forma de GNL não é uma solução para a descarbonização da navegação.
Ao contrário do que a ciência climática exige, as empresas marítimas e portuárias têm sido a investir fortemente em GNL fóssil, alegando que o combustível irá reduzir os seus impactos ambientais e a poluição climática. Existem actualmente mais de 785 novos navios de carga encomendados a nível mundial, com mais de 400 a serem construídos para funcionar com GNL fóssil.
Queimar mais GNL fóssil a bordo das embarcações é um desastre na construção do nosso planeta. Só iria aumentar as emissões de metano das naves, que já rosa até 150% entre 2012 e 2018, de acordo com a Organização Marítima Internacional das Nações Unidas (OMI).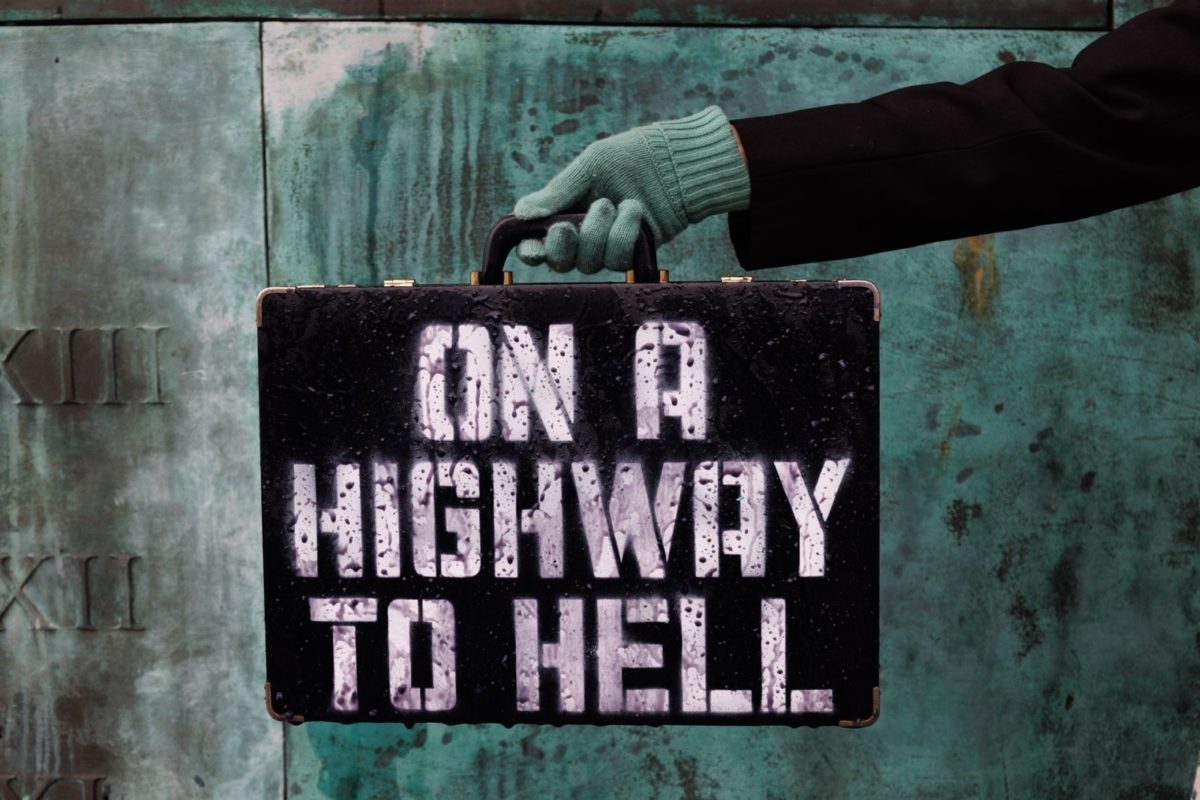 A OMI é imprópria para o efeito
The IMO is clearly unfit for purpose. It only acts on behalf of the shipping industry and rarely considers the environment. It must halve shipping emissions now, we are already too late for some, but not yet for everyone. Add to this the IMO's continued backing of the fossil fuel industry, by not taxing shipping fuel and allowing the dirty fossil fuel byproduct HFO to be burned at sea, plus its lack of regulation of hazardous petrochemical shipping, and the list of IMO misdeeds and wrong directions begins to get very long indeed. Given this ever expanding list isn't it time the environmental remit of the IMO is governed by another, better, UN agency? Life is too important to be squandered by inept bureaucracy.
Exigências da Ocean Rebellion:
A ONU deve formar um organismo novo, transparente e representativo para governar o Oceano, em benefício de TODAS as vidas. Este novo organismo deve ter como única medida de sucesso a restauração e o reabastecimento do Oceano. Deve substituir o poder corporativo pelo poder das pessoas. E deve representar as muitas formas de vida marinha que realmente fazem do Oceano um lar.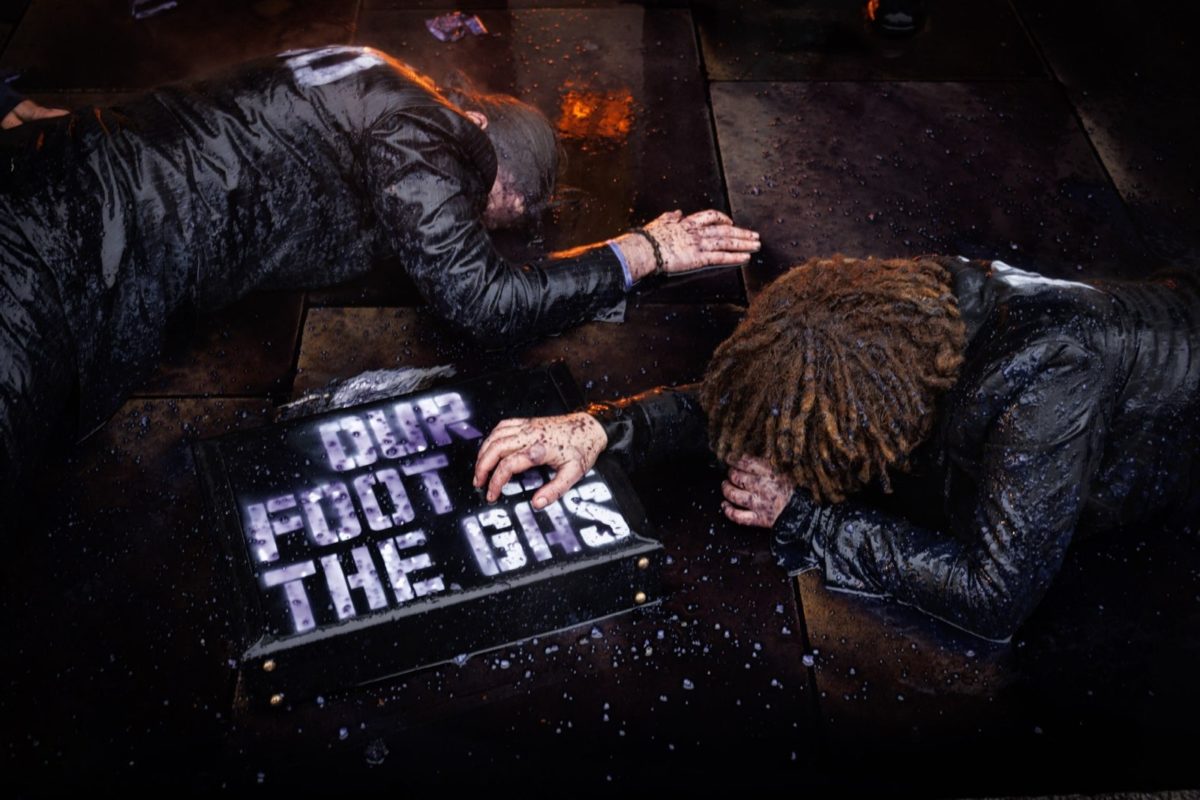 Chris Armstrong, University of Southampton says:
"By avoiding simple solutions like slow sailing, wind, and less international commerce the IMO is condemning the Paris Climate Agreement to a slow death – death by a thousand meetings. We must Act Now to reduce shipping emissions. Commitment to Net Zero by 2050 cannot be used as a corporate ruse to avoid taking urgent action. Shipping needs a plan to rapidly decarbonise, starting now."
Clive Russell from Ocean Rebellion says:
"We must act fast and listen to the scientists. Our greenhouse gas emissions are setting off a chain of events that's tipping our environment towards climate chaos. Every moment we fail to reduce our consumption of fossil fuels and commodities we reduce the resilience of our ecosystems. With every day we fail to act, we move closer to dangerous tipping points with cascading knock-on impacts which look like being irreversible. There's no time to waste, we must act now."
Andrew Darnton acrescenta:
"It's called Liquid Natural Gas or LNG. It's a fossil fuel. The UN IPCC has warned us we need to reduce fossil fuel use – how does building infrastructure to use more fossil fuels help us? LNG is not a solution, it's just madness. Governments must stop listening to industry and start listening to the scientists, they're all saying the same thing – DON'T USE FOSSIL FUELS."
Sophie Miller acrescenta
"As emissões da navegação estão a causar níveis elevados de CO2 atmosférico, e o carbono preto do fuelóleo pesado (HFO) utilizado na navegação, está a provocar o derretimento acelerado do gelo polar. O HFO é um produto residual da indústria petrolífera, os navios funcionarão melhor e mais limpos com combustível destilado. A Rebelião Oceânica apela à proibição do HFO, agora".
Rob Higgs acrescenta
"Porque não reduzir drasticamente as emissões dos navios facilmente através de uma navegação lenta e da reforma de navios ineficientes? Certamente que este é um requisito mínimo, a curto prazo, para tornar a indústria naval consistente com os objectivos do Acordo de Paris?
Roc Sandford acrescenta:
"As the seas die we die. And the seas are dying. This is being accelerated by idiotic schemes like using 'scrubbers.' Ocean acidification is a devasting issue for marine life and scrubbers will only add to it. When Oceans cross a nearterm acidification threshold it really is all over, not just for marine life but for all life (that's us too—without a living ocean we're going to find it hard to breathe). What's so hard about banning Heavy Fuel Oil instead? We need to stop thinking business as usual and start reacting as if this is a horrific and terrifying emergency–because it is.
Suzanne Stallard acrescenta:
"A ONU fala muito bem. A Organização Marítima Internacional, um organismo da ONU, não está apta para o efeito. É corrompida pela indústria e utiliza o seu mandato na ONU em nome da indústria. Vivemos numa era de ruptura ecológica sem precedentes, a ONU tem de reconhecer isto através da governação. Pedimos à ONU que chame as suas subsidiárias desonestas, ainda mais prejudiciais à vida na terra do que os estados desonestos de que tanto ouvimos falar".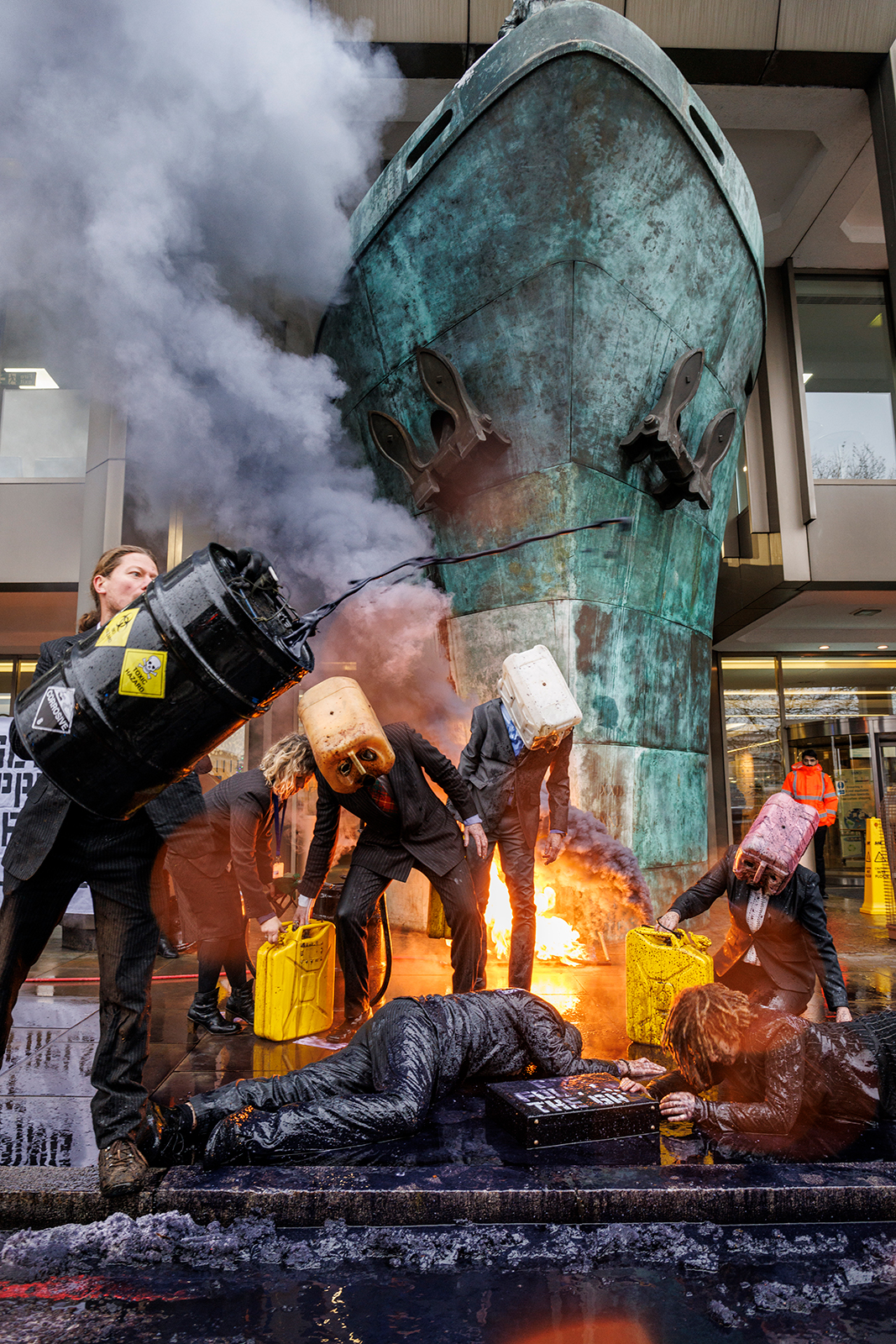 Photos from top: 1, 4, 5, 6 ,7, 9 and 10, Crispin Hughes; 2 and 3 João Daniel Pereira
Film by Alex Morgan