LNG DON'T BUY THE LIE
03.05.2022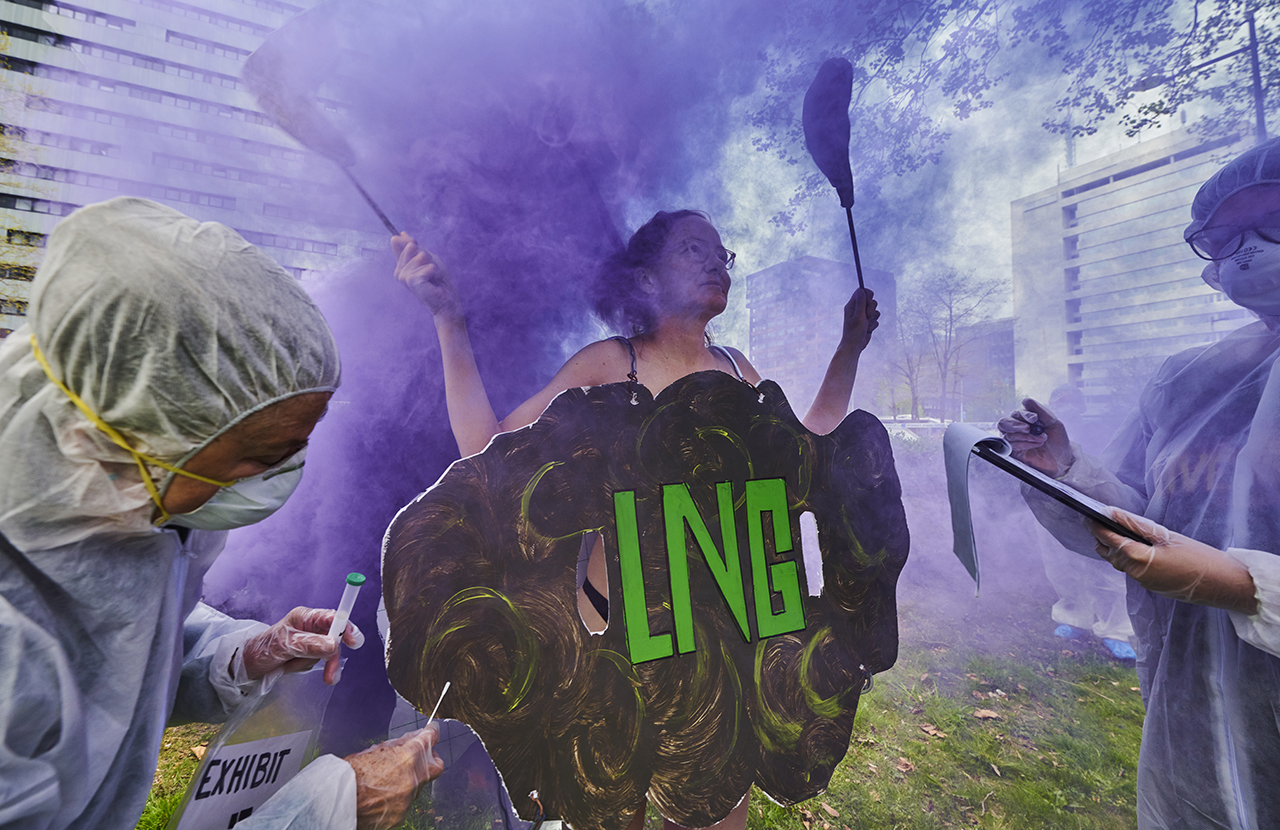 Today choking smoke and a naked Liquid Natural Gas (LNG) fart erupted outside the Global LNG Bunkering Summit at Novotel Amsterdam City. Climate Crime Scene Investigators were dispatched from Ocean Rebellion to contain the naked noxious fart before it engulfed the city. The investigators quickly taped off the area and declared it a climate disaster – an act predicting our future if we continue with our addiction to fossil fuels.
The investigators were joined by seafarers carrying the banner 'LNG WEG ERMEE'. Earlier the same seafarers projected slogans on the Erasmus Bridge in Rotterdam saying 'LNG DON'T BUY THE LIE', 'LELIJK NAAR GAS' and 'LNG NEE' among others.
Moored beyond the bridge the seafarers spotted the P&O cruise ship Britannia, the old P&O flag ship. Not only is P&O well known for treating staff appallingly but it's new flagship, the Iona, is LNG powered – keep up the bad work P&O.
The fate of the Ocean depends on us all.
Our interventions depend on support.
The naked LNG fart represents the oil and gas industry lobby which is pushing hard to burn more fossil gas in Europe's shipping, despite urgent calls by climate scientists to rapidly phase-out fossil fuels to prevent a climate disaster. Evidence by a leading NGO shows supposedly 'green' gas-powered ships emitting unburnt methane into the air – methane is 80 times more climate warming than carbon dioxide over a 20 year period. The fossil fuel industries' noxious greenwashing of LNG must stop now, we cannot let them fart into our atmosphere any more.
On 3 – 5 May, major oil and gas, shipping and port industry players are meeting at the 2022 Global LNG Bunkering Summit in Amsterdam. Their aim is to drive up the use of fossil gas in the form of Liquid Natural Gas (LNG) and build new LNG infrastructure projects in all major ports across Europe. The EU must not let this happen, the EU must not fund this madness with dirty fossil fuel subsidies (using honest taxpayers' money).
Fossil gas and the climate – the facts
LNG is a fossil fuel that, when burnt as a marine fuel, leaks methane into the atmosphere – a dangerous global-warming gas that is over 80-times more climate-warming in the short-term than carbon dioxide.
The UN's Intergovernmental Panel on Climate Change (IPCC) identified rapid methane emission cuts as one of the top priorities in order to limit global warming to 1.5°C as much as possible. The IPCC's latest report focusing on climate mitigation makes clear that fossil gas in the form of LNG is not a solution for shipping's decarbonisation.
Contrary to what climate science says, shipping and port companies have been investing heavily in fossil LNG over the past years, claiming that the fuel will reduce their environmental impacts and climate pollution. There are currently over 785 new cargo ships on order globally, with over 400 being built to run on fossil LNG.
Burning more fossil LNG onboard vessels is a disaster in the making for our planet. It would only increase methane emissions from ships, which already rose by 150% between 2012 and 2018, according to the UN International Maritime Organisation (IMO).
Ocean Rebellion demands:
Shipping companies, port stakeholders and policymakers end fossil Liquid Natural Gas expansion and instead ramp up investments in real, zero-emission solutions.
The European Parliament and EU governments in particular must end their policy support for fossil LNG under the EU's draft climate law for marine fuels (FuelEU Maritime).
EU policies seeking to increase shipping and just in time supply-chain consumerism must be consigned to the past. Instead the EU must learn from progressive schemes with a bias to local needs.
The UN must form a new, transparent, and representative body to govern the Ocean for the benefit of ALL life. This new body must have the restoration and replenishment of the Ocean as its only measure of success. It should replace corporate power with people power. And it should represent the many forms of marine life which actually make the ocean a home.
Andrew Darnton from Ocean Rebellion says:
"It's called Liquid Natural Gas. It's a fossil fuel. The UN IPCC has warned us we need to reduce fossil fuel use – how does building infrastructure to use more fossil fuels help us? LNG is not a solution, it's just madness. Governments must stop listening to industry and start listening to the scientists, they're all saying the same thing – DON'T USE FOSSIL FUELS."
Stefanie Wels from Ocean Rebellion adds:
"We've had enough of the oil and gas industry farting into the room. These idiots are responsible for the state we're in – they've driven us to the edge of a climate disaster. It's time we kicked their backward ideas into the past, they've had enough chances to make a difference, it's time to regulate against their stupidity and begin a real change for the better."
Captain Arjen Van der Veen Founder of Fairtransport, a zero-emission shipping company, adds:
"Why has the Dutch government abandoned plans to build zero emission technology ships? Is it because they only listen to the fossil fuel industry? We Dutch can be a world leader in a new seafaring technology, surely we must strive for better and not retreat by making the same mistake over and over again. Wind not fuel – it is the way forward!"
Suzanne Stallard from Ocean Rebellion says:
"HFO, VLSFO, LNG what is it with the fossil fuel industry? Do they honestly believe turning a fossil fuel into an acronym makes it less toxic? It might do for greenwashing purposes but it doesn't change how damaging it is. How can a fuel that releases methane into the atmosphere be considered good? Methane is 80 times more polluting than carbon dioxide, surely that's all we have to know to stop using it."
Roc Sandford from Ocean Rebellion adds:
"Considering the current disasters we're facing, gas is the last thing we need. Degrowth, fewer ships, slow steaming, wind assistance— these are the answers we need to be thinking and talking about. The time for business as usual has gone. Let's imagine a new way of doing things. We need business unusual to avoid social collapse."
AS THE SEA DIES WE DIE
Photo credits from the top: 1, 2, 6 and 10 Nico Garstman. 3, 8 and below Charles M Vella. 4, 5, 7, 11 and 12 Savannah van den Rovaart. 9 'Husky'.