VAN FOSSIELE BRANDSTOFFEN AF.
21.11.2022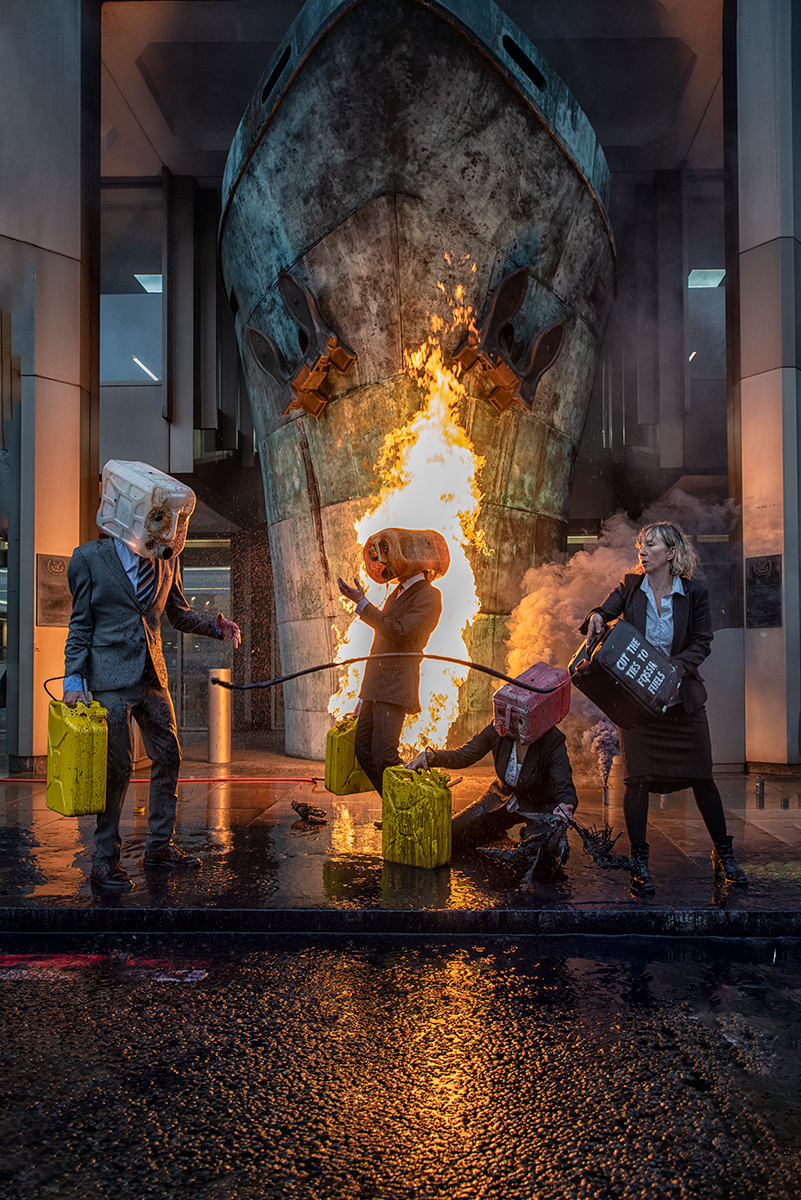 Time to visit the UN International Maritime Organisation (IMO) again, this time with three Oil Heads vomiting oil to illustrate the IMO's refusal to regulate shipping emissions.
As their filthy oil spew spilled across the paving a plume of Heavy Fuel Oil (HFO) smog filled the air with black carbon, and an oil slick spread across the pavement, suffocating any birds in its path.
Amongst all this chaos a group of seafarers unfurled two banners 'GET SHIPPING OFF FOSSIL FUELS' en 'NO LIQUID NATURAL GAS'.
The latter refers to the latest shipping industry 'answer' to emissions – Liquid Natural Gas (LNG). The industry prefers the acronym LNG because it hides the fact it's a fossil fuel, a fossil fuel that emits methane rather than CO2. Methane has 80 times more 'heating power' over a 20 year period than CO2 and will accelerate the climate crisis – once again showing how little shipping cares about the climate and how much it loves the fossil fuel industry.
Our intervention at the IMO is part of a wider series that joins the dots between all the ways the fossil fuel industry is wilfully destroying our environment. The fossil fuel industries greed, and the greed of their shareholders, must be held to account, to have any hope of keeping to 1.5°C of warming we must consign fossil fuels to the past.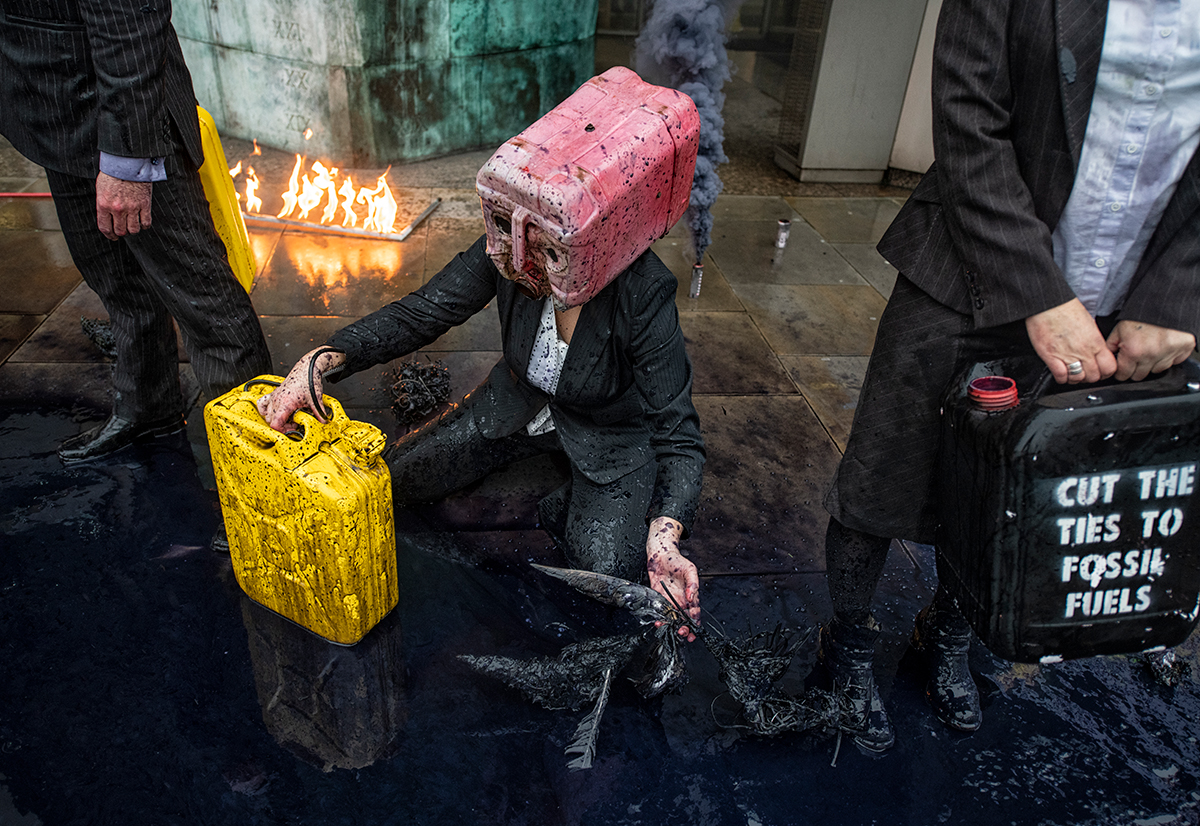 Afterwards the 'dirty scrubbers' arrived to clean up the oil heads' mess with their 'greenwash'.
Paid off by the shipping industry the 'dirty scrubbers' revealed how the IMO is allowing the fossil fuel industry to continue burning HFO at sea. HFO is a fossil fuel distillation byproduct that's so toxic its use is banned on land – it's highly acidic, full of nitrogen oxide (a major cause of respiratory diseases) and has been linked to 400,000 premature deaths worldwide per year (at a health cost of $50 billion).
The IMO is failing in its duty to meet the Paris Climate Agreement, it must speak out against fossil fuel subsidies, start taxing shipping fuel and remove all fossil fuel influence from policy making – no more industry lobbyists.
HFO and the IMO
De IMO blijft haar plicht om de emissies van de scheepvaart te reguleren negeren. Door schepen toe te staan HFO te verbranden, verhoogt de IMO de bijdrage van de scheepvaart aan de CO2-emissies aanzienlijk in plaats van deze te verminderen overeenkomstig het Akkoord van Parijs. Bovendien valt zwarte koolstof van verbrande HFO in de vorm van roet en zorgt ervoor dat de ijskappen meer warmte opnemen en smelten, waardoor de angstaanjagende feedback loops van planetaire opwarming, die al onze levens bedreigen, verder versnellen.
Black carbon is especially dangerous when emitted by ships in the Arctic. IMO has been discussing rules for black carbon for more than a decade and the best they have to show for it is a commitment for a voluntary switch to cleaner fuels. The shipping industry has shown themselves incapable of self-regulation and are putting countless lives at risk. The time is now for a binding rule to tackle this potent source of climate heating.
De IMO moet deze domheid nu stoppen - vrijwillige omschakeling heeft nooit gewerkt, wanneer heeft een industrie zich ooit vrijwillig ingezet voor het milieu? De IMO moet nu maatregelen nemen om een einde te maken aan het gebruik van HFO - niet alleen in het Noordpoolgebied, maar overal - als het illegaal is om een brandstofsoort aan land te verbranden, dan moet het ook illegaal zijn om deze op zee te verbranden. Uiteindelijk komt het op dezelfde plaats terecht - onze longen.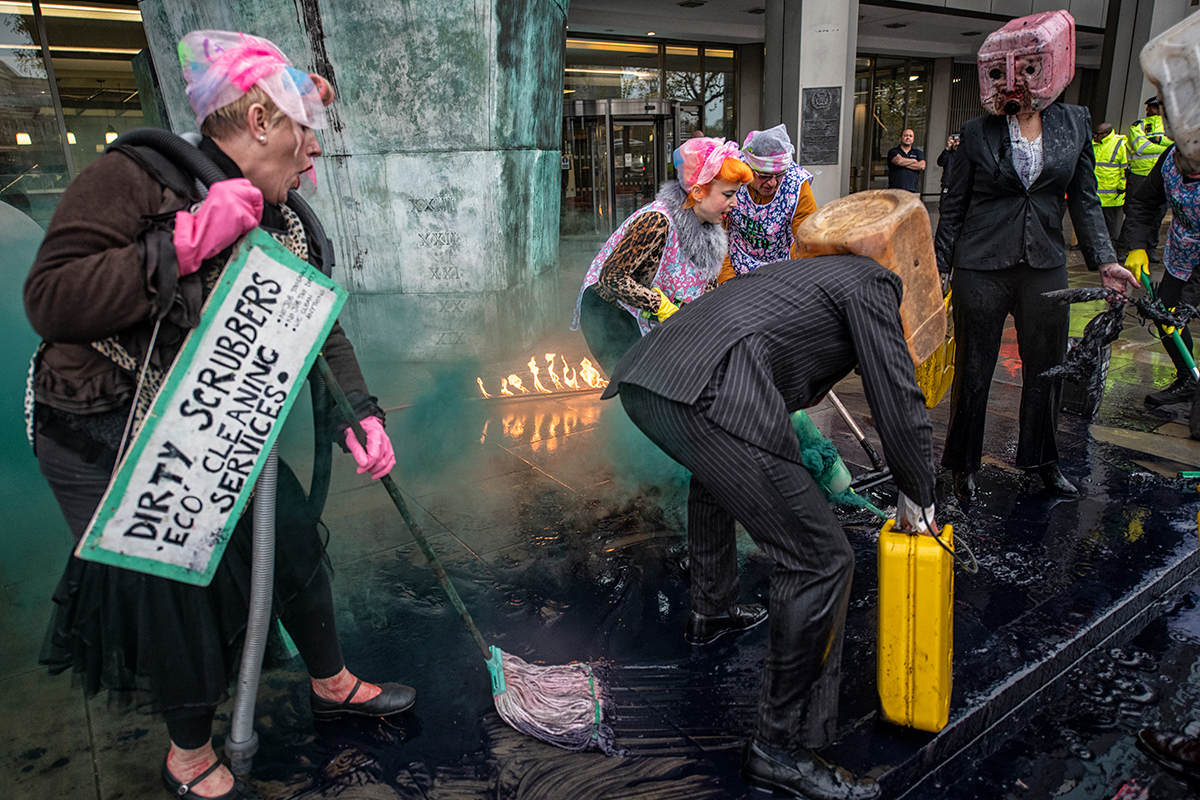 Vuile schrobbers
Onze vuile schrobbers ruimen vaak de vuile geheimen van de olie- en scheepvaartindustrie op. Deels schoonmaker, deels groenwasser zijn ze bedreven in het misleiden van het publiek. Maar deze keer zijn ze een stap verder gegaan.
Not only is the IMO greenwashing fossil fuel use, it's also proposing 'scrubbers' to do the same for ships. These scrubbers stop the worst HFO emissions entering the atmosphere: that's good right? Well not if the scrubber turns it into an acidic solution and pumps it into the Ocean. So instead of polluting the air the IMO is now aiming to acidify the sea – that's surely the definition of greenwash!
So when our dirty scrubbers empty their buckets of non-toxic byproduct into the drain, it's a perfect illustration of what the IMO doing with the toxic byproduct of HFO – emptying it straight into the Ocean. IMO's solution is a toxic solution.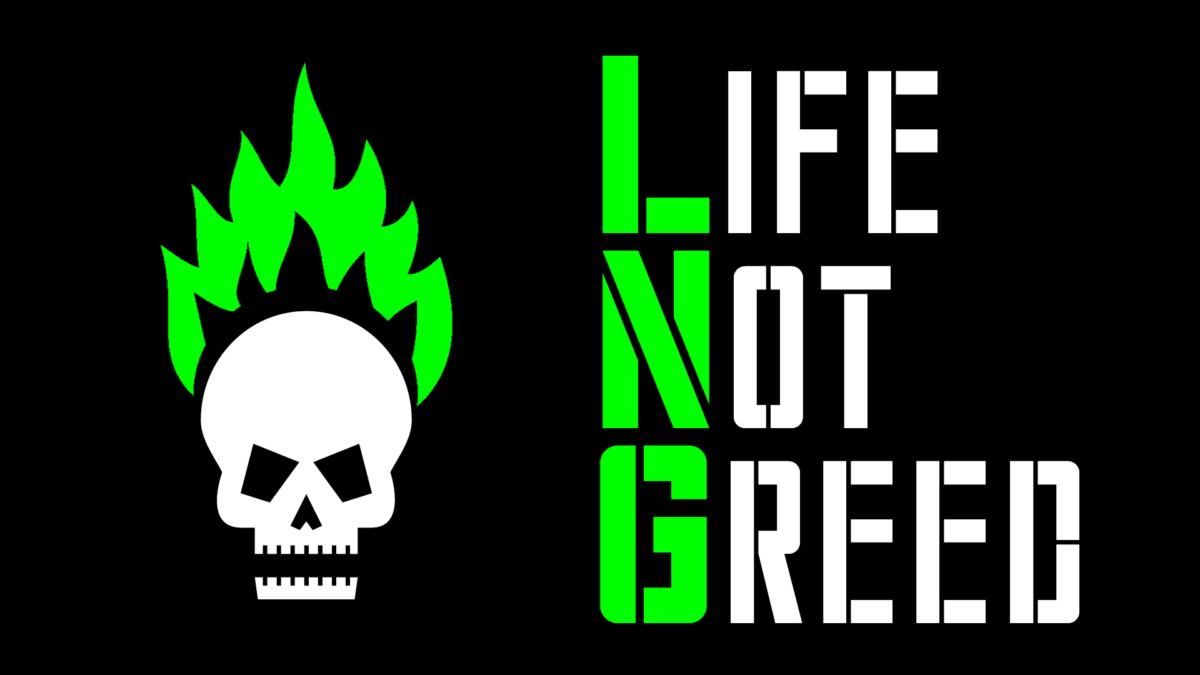 Liquid Natural Gas (LNG) – the facts
LNG is a fossil fuel that, when extracted, transported and burnt as a marine fuel, leaks methane into the atmosphere – a dangerous global-warming gas that is over 80 keer meer klimaatopwarming op korte termijn dan kooldioxide.
Het Intergouvernementeel Panel inzake klimaatverandering van de VN (IPCC) geïdentificeerd rapid methane emission cuts as one of the top priorities in order to limit global warming to as close to 1.5°C as possible. The IPCC's latest report gericht op klimaatmitigatie maakt duidelijk dat fossiel gas in de vorm van LNG geen oplossing is voor het koolstofvrij maken van de scheepvaart.
Contrary to what climate science requires, shipping and port companies have been investing heavily in fossil LNG, alleging that the fuel will reduce their environmental impacts and climate pollution. There are currently over 785 new cargo ships on order globally, with over 400 being built to run on fossil LNG.
Het verbranden van meer fossiel LNG aan boord van schepen is een ramp in wording voor onze planeet. Het zou de methaanuitstoot van schepen, die al... rose by 150% between 2012 and 2018, according to the UN International Maritime Organisation (IMO).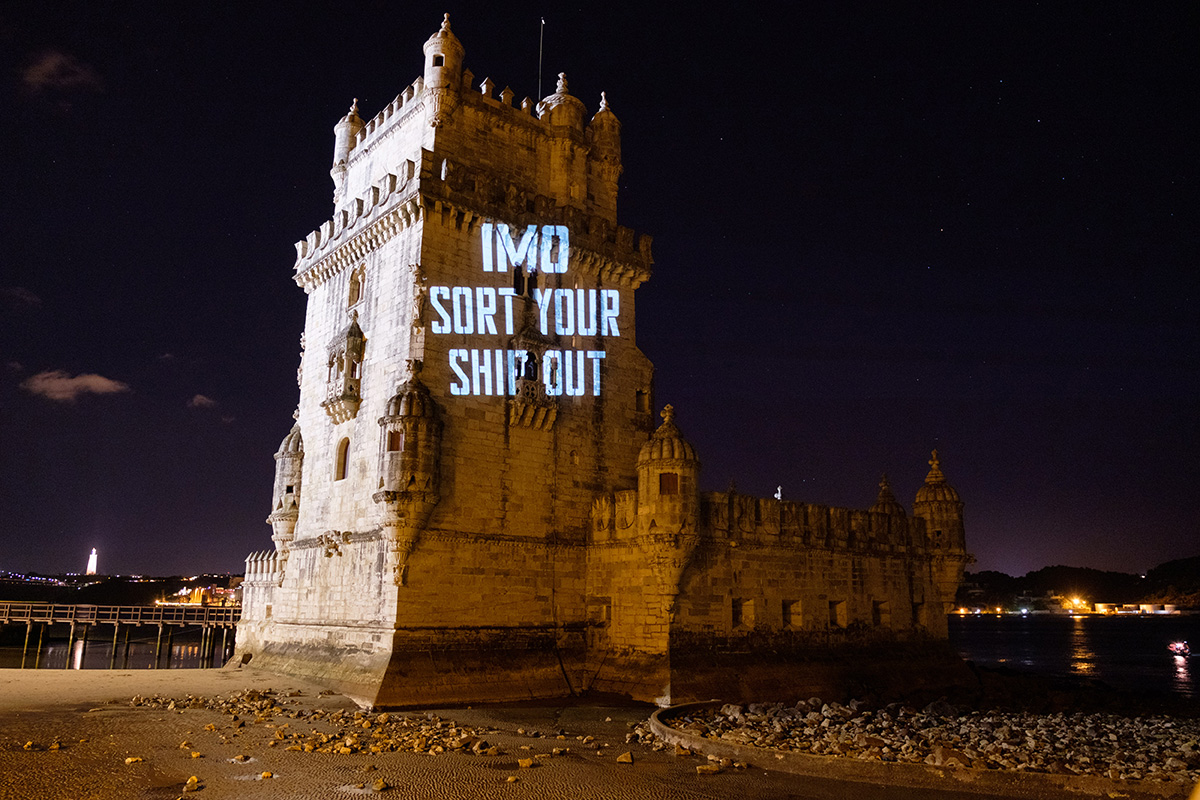 De IMO is ongeschikt voor het doel
The IMO is clearly unfit for purpose. It only acts on behalf of the shipping industry and rarely considers the environment. Add to this the IMO's continued backing of the fossil fuel industry, by not taxing shipping fuel and allowing the dirty fossil fuel byproduct HFO to be burned at sea, plus its lack of regulation of petrochemical shipping, and the list of IMO misdeeds and wrong directions begins to get very long indeed. Given this ever expanding list isn't it time the environmental remit of the IMO is governed by another, better, UN agency? Life is too important to be squandered by inept bureaucracy.
Ocean Rebellion eist:
De VN moet een nieuw, transparant en representatief orgaan vormen om de oceaan te besturen ten behoeve van ALLE leven. Dit nieuwe orgaan moet het herstel en de aanvulling van de oceaan als enige maatstaf voor succes hebben. Het moet bedrijfsmacht vervangen door mensenmacht. En het moet de vele vormen van zeeleven vertegenwoordigen die van de oceaan hun thuis maken.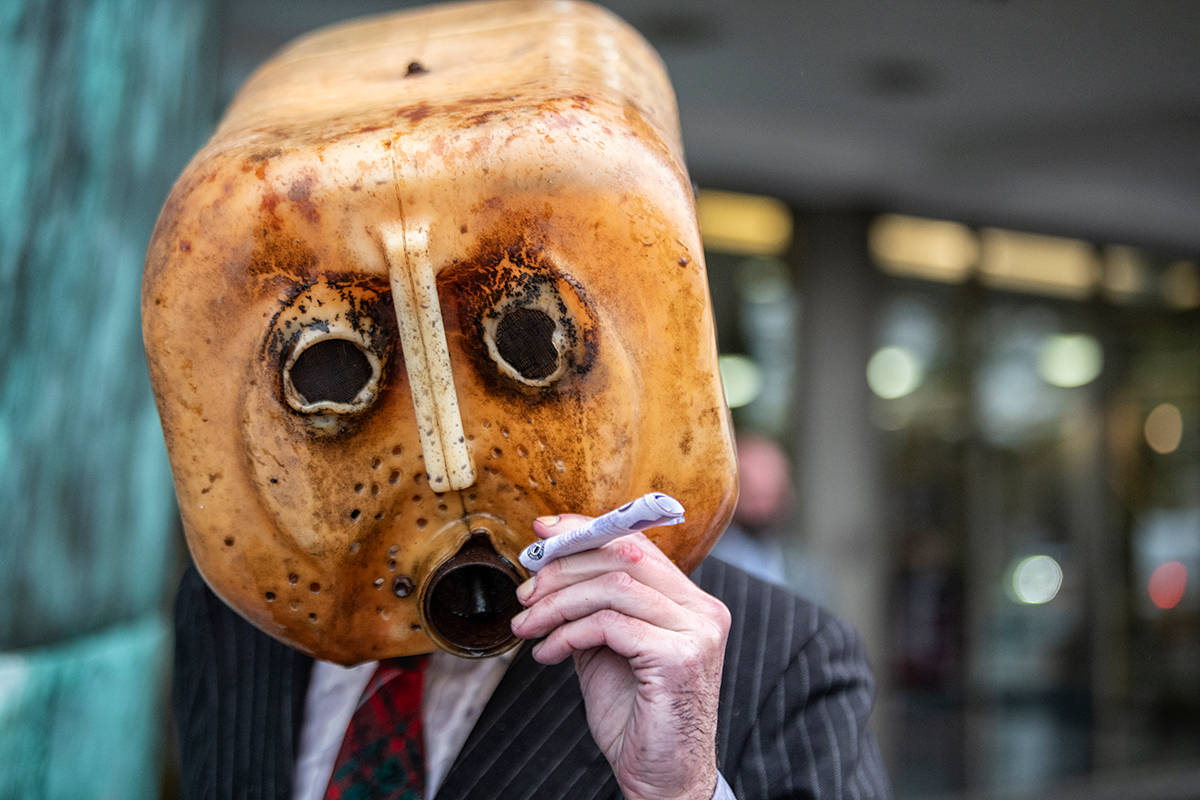 Quotes from Ocean Rebellion:
Andrew Darnton van Ocean Rebellion zegt:
"It's called Liquid Natural Gas or LNG. It's a fossil fuel. The UN IPCC has warned us we need to reduce fossil fuel use – how does building infrastructure to use more fossil fuels help us? LNG is not a solution, it's just madness. Governments must stop listening to industry and start listening to the scientists, they're all saying the same thing – DON'T USE FOSSIL FUELS."
Sophie Miller adds
"Scheepvaartemissies veroorzaken verhoogde niveaus van atmosferische CO2, en de zwarte koolstof van zware stookolie (HFO) die in de scheepvaart wordt gebruikt, veroorzaakt het versneld smelten van poolijs. HFO is een afvalproduct van de olie-industrie, schepen varen schoner en beter op gedestilleerde brandstof. Ocean Rebellion roept op tot een verbod op HFO, nu."
Rob Higgs voegt daaraan toe
"Why not drastically reduce shipping emissions easily by slow sailing and retiring inefficient ships? Surely this is a minimal requirement, in the short term, to make the shipping industry consistent with Paris Agreement goals?
Roc Sandford voegt eraan toe:
"As the seas die we die. And the seas are dying. This is being accelerated by idiotic schemes like using 'scrubbers' – Ocean acidification is a devasting issue for marine life and scrubbers will only add to it. When Oceans cross a nearterm acidification threshold it really is all over, not just for marine life but for all life (that's us too—without a living ocean we're going to find it very hard to breathe). What's so hard about banning Heavy Fuel Oil now? We need to stop thinking business as usual and start reacting as if this is a horrific emergency–because it is.
Suzanne Stallard voegt toe:
"The UN talks a great talk. The International Maritime Organisation, a UN body, is unfit for purpose. It's corrupted by industry and uses its UN remit on behalf of industry. We're living in an age of unprecedented ecological breakdown, the UN must recognise this by governance. We ask the UN to call out its rogue subsidiaries, still more harmful to life on earth than the rogue states we hear so much about."
Photos: Guy Reece. Photo of the illumination of the Torre de Belém, Lisbon, by João Daniel Pereira.
Film by Alex Morgan.