Still Carrying on Cruising, Torbay
23.03.2021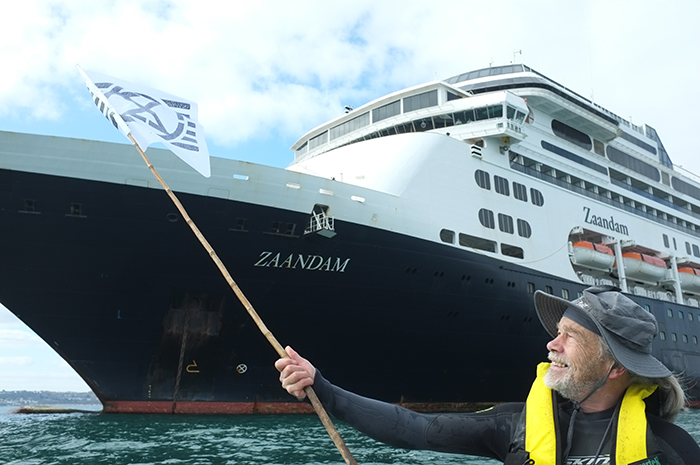 Two members of Ocean Rebellion South Devon and Torbay hung banners from their inflatable kayak in front of the "Zandam" an American Holland cruise ship, one of 2 Cruise ships in Torbay (with a further ….. off 2 off Teignmouth). There have been 10 or more cruise ships of South Devon shores in recent months.
Colin Moore, one of the activists said, "Most people have a rather romantic view of cruise liners, perhaps based on films such as the Titanic. But modern cruise liners are far bigger and the pollution they cause can have serious health consequences. It's bad enough that a person's carbon footprint rises at least three times while on cruise but what is less well known is that the fumes from them are worse than a whole city's worth of exhaust fumes".
The cruise ships are parked in the bay due to covid restrictions where they find a safe anchor from the prevailing westerly winds. Although there is only a skeleton crew on board the ships often have all their lights blazing and frequently move from port to port to vent their discharges and keep engines in good working order. Normally they dispose of sewage directly into the ocean which is legal outside territorial waters even though such sewage disposal can contribute to large toxic blooms of algae. They are also sometimes caught disposing of it inside the 12 mile limit but then pay small fines. They also frequently dispose of rubbish and fuel directly into the sea and drag their anchor in high winds which can cause serious damage to the sea bed damaging habitat. The Marella Explorer 2 – part of the TUI fleet – lost its anchor in Torbay during the extreme weather in January and this has since happened to other ships 2 more times. This is now under investigation.
The particulate pollution from the heavy oil used as fuel by just one cruise ship has been said to be as much as a million cars. That is normally disposed of on the open sea but when you have up to ten of these ships in and around a coastal population like Torbay air quality can be expected to deteriorate particularly in light onshore winds. One of the biggest problems is the levels of nitrogen oxide which has been linked to higher rates of cancer and respiratory disease.
There are some regulations in place and so the cruise industry use "scrubbers" or incinerators to make their fuel come within standards but then have been found to dump the waste in the deep ocean contributing to it's wider problems such as ocean acidification. Recently Ocean Rebellion have demanded that the shipping industry switch to the cleaner distillate fuel.
Fellow activist and photographer Chris Dance said, "If this country and indeed the world are serious about keeping the CO2 footprint to within safe limits these cruise ships would best be scrapped. But people who live near the coast where these cruise ships anchor or harbour ought to be made aware of the more immediate danger to their health".