DIED GREY, DYED PINK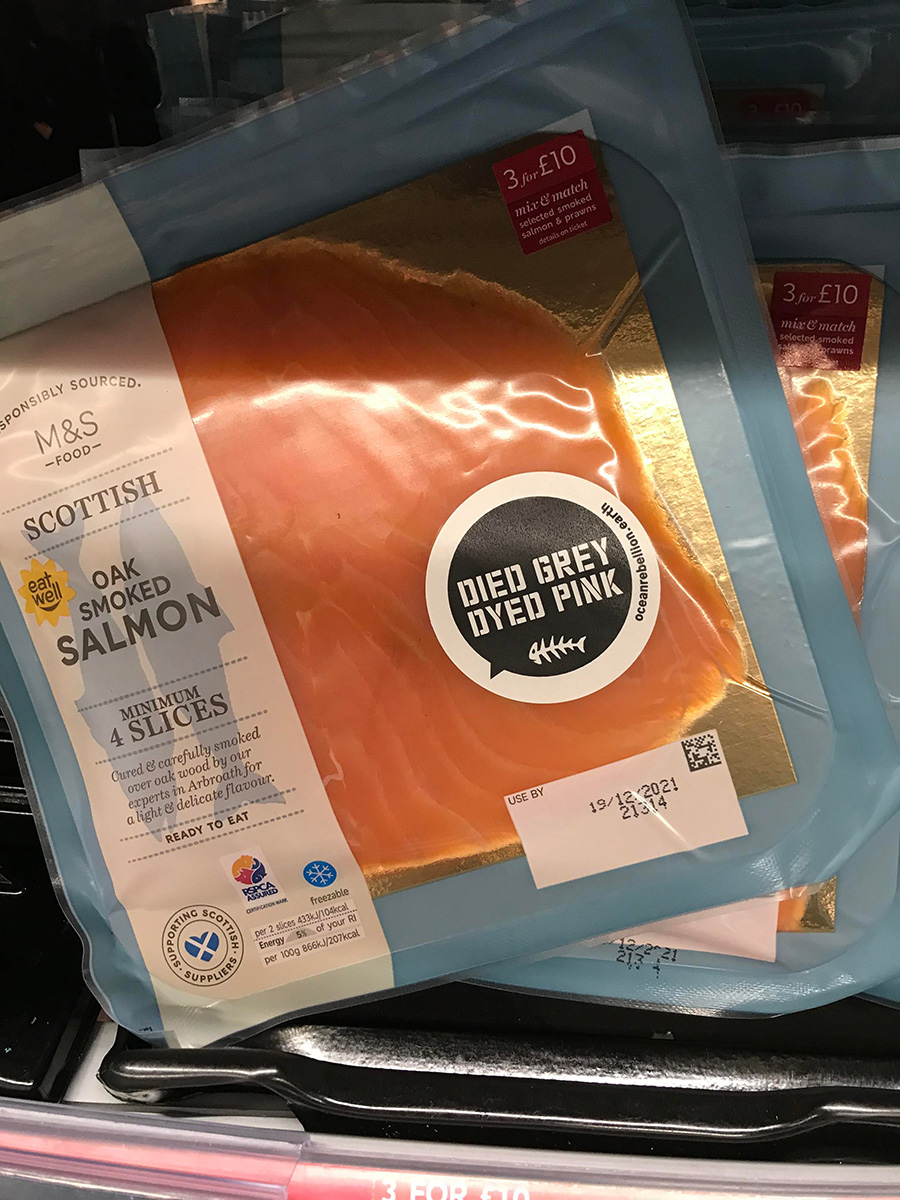 Ocean Rebellion visited a local M&S supermarket in Torquay, Devon, to help the store with its incorrect product labelling.
The inspectors focussed on the Salmon on sale, a particularly large part of M&S's 'responsibly sourced' product range, a particularly disastrous product range for our Ocean.
DIED GREY, DYED PINK
Wild salmon is naturally pink because of the healthy diet it enjoys. A farmed salmon doesn't enjoy a healthy diet, instead salmon farmers feed the salmon a dye to turn them pink. In fact they can choose how pink to dye 'their' salmon by using a colour chart. Apparently the colour we see in M&S is No.33 – that's considered a 'consumer favourite', over 66% of us prefer our salmon this colour.
Scotland is one of the largest producers of farmed salmon in the world.
The salmon farming industry, another form of Industrial Fishing, is destroying the marine environment. Not only locally where salmon farms pollute lochs with salmon faeces, parasites and by the high mortality rates of salmon existing in overcrowded pens. But also globally by EU fleets overfishing fish like sardines off the coast of West Africa and South America, which is processed and turned into food for salmon farms. This fish is a critical source of food for local fisher communities in West Africa and South America – without this food these communities will disappear.
The Scottish Salmon Farming industry is reckoned to be worth £2bn per year to the Scottish economy but cleaning up after it costs £1.4bn per year [Just Economics]. And the real cost is far more than £1.4bn a year – it's the displacement of whole communities and the ruin of healthy marine ecosystems.
And Scottish Salmon Farming is going to expand, it aims to double in size by 2030. This expansion will require a further 310,000 tonnes of extra wild fish a year (on top of the 410,000 tonnes it already uses), that amount is equivalent to the total amount of fish the UK eats in one year.
This means the real cost of your farmed salmon meal isn't '3 for £10' at M&S, it's the destruction of delicate marine ecosystems and the ruin of small fisher communities.
M&S threatened our inspectors with criminal damage proceedings if they didn't remove our certification labels. After a discussion (about the amount of criminal damage Salmon Farming inflicts on the Ocean) the store didn't call the Police and our inspectors carried on with their inspection.
You can become an 'official' Ocean Rebellion certification 'eco-labeller' by downloading our stickers here and visiting your local supermarket:
oceanrebellion.earth/news/supermarket-sticker-sweep
Plus you can download other stickers below and follow the instructions above 🙂
fish1.pdf
fish2.pdf
fish3.pdf
fish4.pdf
Enjoy!
---
The fate of the Ocean depends on us all.
We'll let you know what we're doing to help.