HIGHLAND FLING
25.10.2021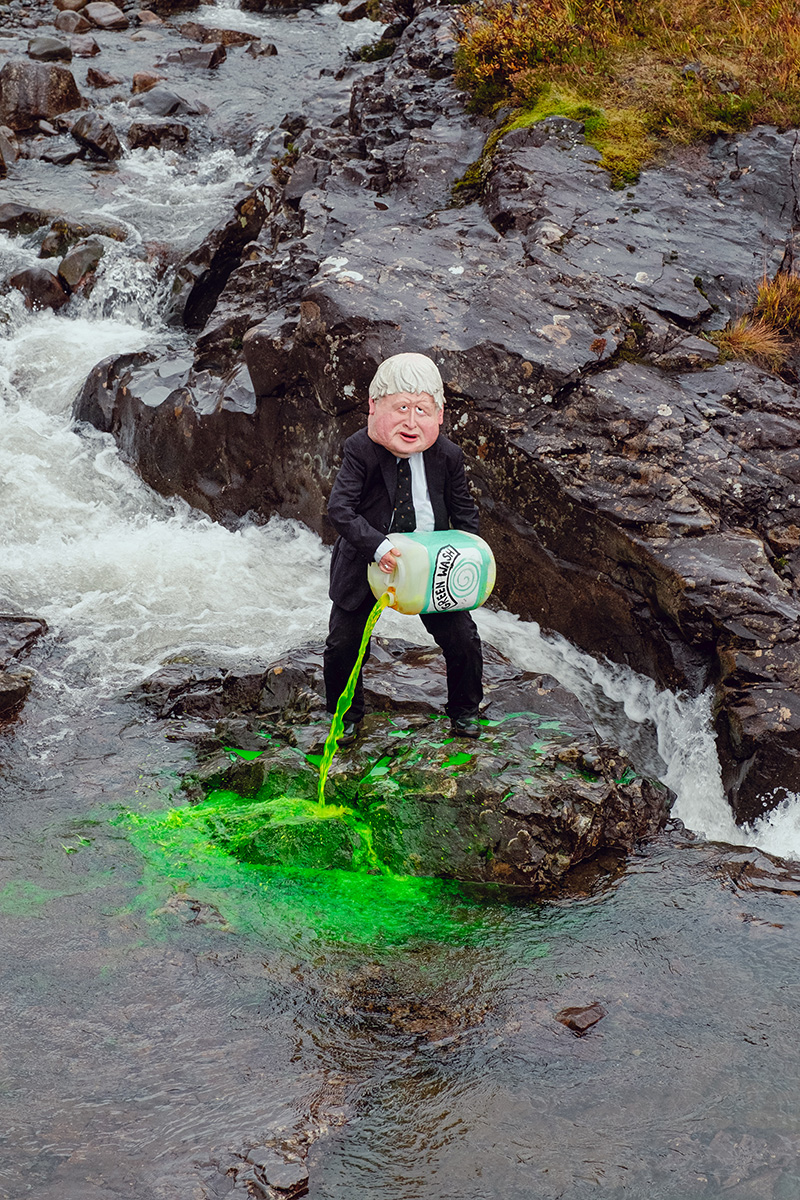 Ocean Rebellion has visited the beautiful Highlands of Scotland to catalogue environmental tragedy.
On Saturday 23 October, at Eilan Donan, Ocean Rebellion discovered a mermaid stranded and dying on the shore. No one could understand why she had crawled from the water. At first we thought the net, discarded by a super trawler, was the problem, until some green, reeking, fluid was spotted. On further investigation the fluid seemed to be flowing from a stream.
Nearby Ocean Rebellion found a 'fossil-fool' oil head pouring toxic green wash into the water. This stupid representative of the fossil fuel industry, a member of the Cambo Oil Field lobby, seemed to have the help of Boris Johnson. Both just carried on polluting – they didn't care about the plight of the poor mythical creature, or the glare of our cameras. They were both very sure of the power of their Greenwash, it certainly has most people fooled.
Ocean Rebellion followed the 'Fossil-fool' and on Sunday (24 October) found him up to more environmental idiocy. This time he was setting fire to the Highlands, torching the last tree on the hillside at The Old Man of Storr. The fossil fuel industry is making nature history, and has always burned its disgusting by-product, Heavy Fuel Oil (HFO) out of public view. Normally it does this at sea by burning it in ship engines but this 'Fossil-fool' has decided he has too many old car tyres, sulphur and paraffin to get rid of (all ingredients of HFO). Again Prime Minister Boris Johnson joined in, they seemed very chummy, perhaps that's why Boris can't wait to sign-off the new Cambo Oil field? They both enjoyed a jolly good time and Boris seemed to be profiting from the destruction around them.
They then returned to the stream, adding a bit more greenwash, and did a bit more oil burning – why not if you can get away with it?
THE SCOTTISH PARLIAMENT
Ocean Rebellion demands the Scottish Parliament takes the environment seriously, protecting it for the livelihoods and survival of the young. The Cambo oil field cannot go ahead. Pumping a further 170million barrels of oil will deepen the climate crisis. Instead the Scottish Parliament must focus on providing alternative job opportunities in Aberdeen and other Scottish communities who rely on fossil fuel jobs. We ask the Scottish Parliament to step up and focus on renewables, rewilding and protection. We ask Nicola Sturgeon to make Fossil Fuel a nightmare from the past. We know it's pointless to appeal to Boris and his cronies, they are in the pockets of the Fossil Fools.
Increasing Scottish salmon farming is another no-no. Scotland's marine environment is not yours to destroy, Nicola. Ocean Rebellion appeals to the Scottish Government to obey the findings of its own parliament and impose a moriatorium on both new farms and increased production until this devastating industry has cleaned up its mess.
COP26
Human dependency on the fossil fuel industry is directly contributing to climate breakdown. Ocean Rebellion demands that COP26 makes a firm commitment to end dependency on fossil fuels and overhauls the UN International Maritime Organisation removing all fossil fuel stakeholders.
Sophie Miller from Ocean Rebellion says:
"The Cambo Oil Field is a continuation of Fossil-fuel idiocy — we need to get off oil not dig more wells. We know that Boris Johnson won't do anything, he's a weak-willed greedy fool, but the Scottish Government can show leadership and deliver a blow to Westminster by showing what a true environmental policy looks like."
Rob Higgs from Ocean Rebellion says:
"We are tired of successive backhanded subsidies to the fossil fuel industry. Weak international shipping legislation allows ships to burn heavy fuel oil (HFO), an oil byproduct so toxic that one large ship creates as much pollution as one million car exhausts."
Roc Sandford also from Ocean Rebellion says:
"How can the UK government talk about 'leading the world on commitments to the planet' when they have increased subsidies to the oil and gas industry by £2billion? Stop the back-handers now and give us some near-term commitments to genuinely drive emission reductions. Stop the greenwashing and begin leading, now."
Clive Russell also from Ocean Rebellion says:
"Oil companies like Shell and BP, through lobbying and industry associations, have been blocking the emergency policy response which is the only thing which will save life in the oceans. In this way they are amplifying the damage their oil is causing and risking all our lives."
Photos, from the top: 1, 3 and 6, Joao Daniel Pereria. 2, 4, 5 and 7, Guy Reece.
NOTE
Unlike the Fossil Fuel Industry and Boris Johnson, Ocean Rebellion cares about the environment and loves the Scottish Highlands. And, unlike the Fossil Fuel Industry, all of the ingredients in our 'toxic' greenwash are environmentally friendly, harmless and completely dissolve in water.