GRANGEMOUTH IneosDIOTS
02.11.2021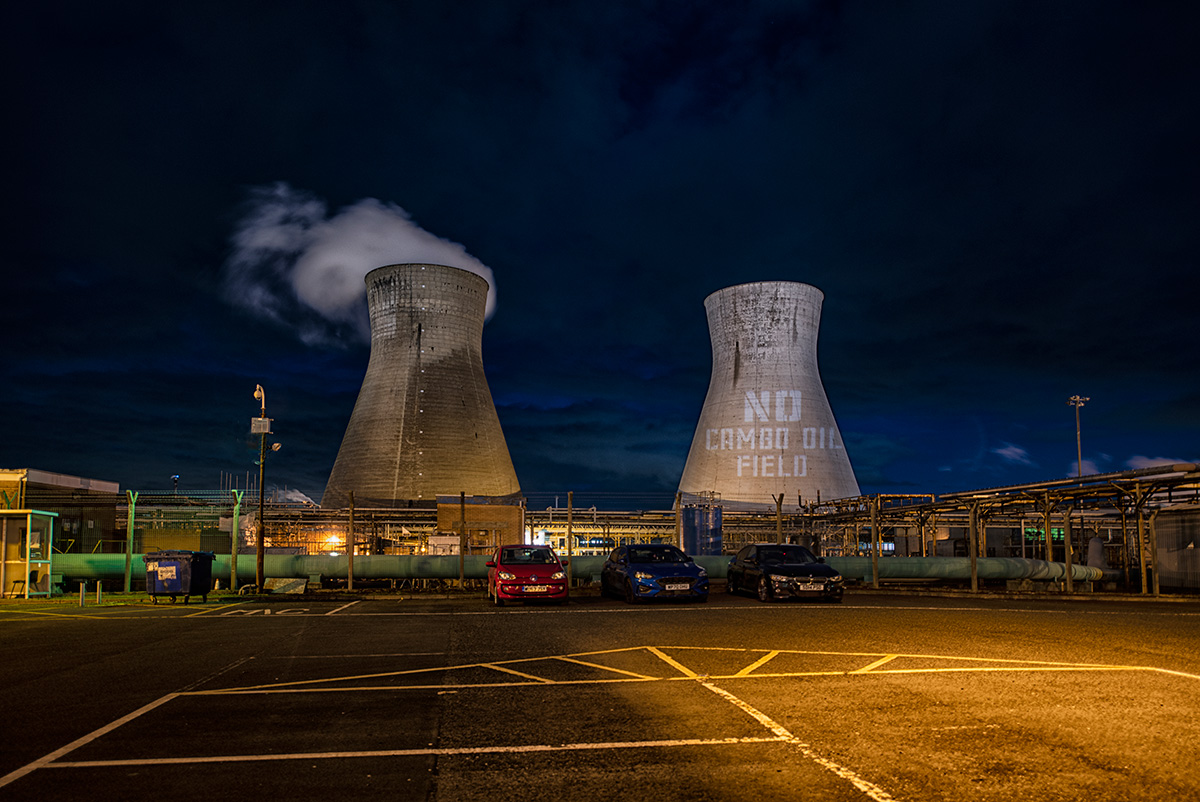 Ocean Rebellion has paid a visit to Grangemouth oil refinery to continue exposing the lies and pollution of this dirty industry.
With the refinery as a backdrop 'Fossil Fool' oil head lobbyists vomited out their putrid lies and toxic fuel. As they puked performers dressed in black emerged through the mess – a reminder of the the sad fact that many Scottish jobs are still reliant on the Fossil Fuel industry, making Scottish communities vulnerable to any change in global fossil fuel policies.
Later Ocean Rebellion projected slogans onto the behemoth refinery, highlighting the many issues with fossil fuels.
Grangemouth oil refinery is the UK's largest oil refinery. The site processes in excess of 10 million tonnes of crude oil per year.
According to Scottish Environment Agency figures, Grangemouth produced over 3.2 million tonnes of carbon dioxide in 2019, making the company the largest source of emissions in Scotland.
It is also the largest employer in Scotland, Grangemouth employs over 1300 people working on the 700 hectare site.
Grangemouth is operated by PetroIneos a 50%/50% joint venture between Ineos and the Chinese state oil company Petrochina. INEOS is the UKs largest private company and is majority owned by CEO Jim Ratcliffe, the UKs richest (and most careless) man – now resident in Monaco (and not paying taxes).
The petrochemicals industry is highly carbon-intensive and has been called a "key blind spot in the global energy debate".
In 2020, INEOS produced 22.8 million tonnes of petrochemicals, more than it produced in 2019. Plastic lifecycle emissions are predicted to grow exponentially. If present growth trajectories continue, it is estimated that emissions from just the production of plastics would consume at least 12% of the earth's remaining carbon budget by 2050.
INEOS has no 'net zero' emissions reduction target across its business and does not disclose any aim to reduce the overall amount of emissions it is responsible for by 2030.
In January 2021, INEOS expanded its fossil fuel business even more, by buying BP's global petrochemicals business (which produced 9.7 million tonnes of petrochemicals in 2019) for around $5 billion. The BP CEO, Bernard Looney, after announcing net-zero targets, called the decision to exit petrochemicals "another deliberate step in building a BP that can compete and succeed through the energy transition". INEOS' CEO, by contrast, called the deal "a logical development of our existing petrochemicals business". It's a poor state of affairs when BP, one of the worlds most proficient liars, is actually doing better!
SCOTTISH GOVERNMENT
Ocean Rebellion demands the Scottish Government takes the environment seriously, protecting it for future generations to enjoy. The Cambo oil field cannot go ahead and the Scottish government has a major role to play in stopping it. Pumping a further 170million barrels of oil will deepen the climate crisis. Instead the UK must focus on providing alternative job opportunities in Grangemouth and other Scottish communities who rely on fossil fuel jobs. We ask the Scottish Parliament to step up and focus on renewables and carbon sequestration through rewilding. We ask Nicola Sturgeon to make Fossil Fuel a nightmare from the past.
COP26
Human dependency on the fossil fuel industry is directly contributing to climate breakdown. Ocean Rebellion demands that COP26 makes a firm commitment to end dependency on fossil fuels and overhauls the UN International Maritime Organisation removing all fossil fuel stakeholders.
Sophie Miller also from Ocean Rebellion says:
"The Cambo Oil Field is a continuation of bowing to Fossil-fuel industry pressure, we need to wean humanity off oil not dig more wells. We know that Boris Johnson won't do anything, he's a weak-willed greedy fool, but the Scottish Parliament can show leadership and deliver a blow to Westminster by showing what a true environmental policy looks like."
Rob Higgs from Ocean Rebellion says:
"We are tired of successive backhanded subsidies to the fossil fuel industry. Weak international shipping legislation allows ships to burn heavy fuel oil (HFO), an oil byproduct so toxic that one large ship creates as much pollution as one million car exhausts."
Roc Sandford also from Ocean Rebellion says:
"How can the UK government talk about 'leading the world on commitments to the planet' when this government has increased subsidies to the oil and gas industry by £2billion? Stop the back-handers now and give us some near-term commitments which will genuinely drive emission reductions. Stop the greenwashing and begin leading, now."
ACT NOW
Join Ocean Rebellion visit: oceanrebellion.earth/lifeguards-wanted
Sign this petition to classify greenhouse gases as pollutants: change.org/greenhouse-pollutants
AS THE SEA DIES WE DIE
Photos: Guy Reece