BRIXHAM SAYS NO TO (MORE) BOTTOM TRAWLING
22.05.2022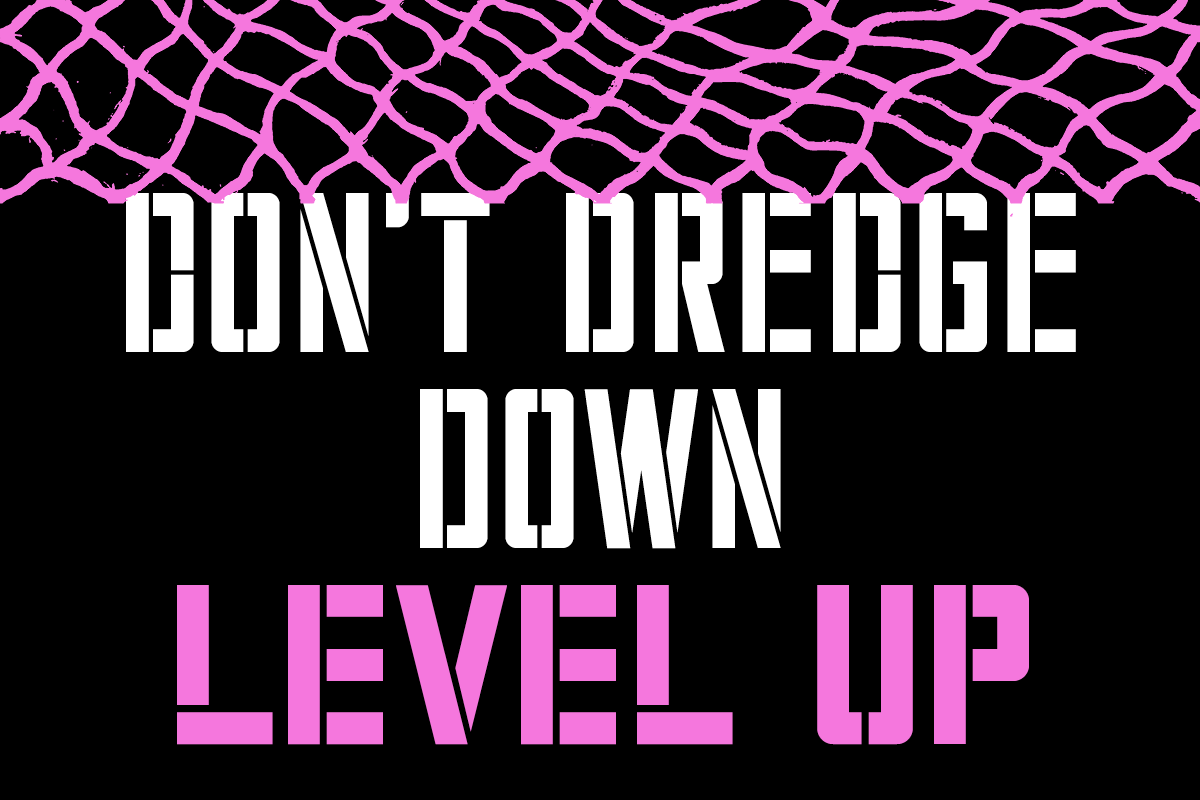 This weekend Ocean Rebellion met, talked with and performed for the fishing industry in Brixham – an historical first, no group has ever confronted the fishing industry in its home port.
There was a feisty reaction from the trawlermen with threats to remove the banners in front of the fish market and quay. But this was navigated by debate and what followed next was an extremely lively conversation between the fishers and Ocean Rebellion. The public also joined in offering enormous support, both locals and tourists. The Water Beings made a late appearance with a colourful performance to round off the day.
Devon is in desperate need of Levelling Up funding, with significant services across the community under huge pressure:
– Children's Services are in a poor state
– Crisis hit Health Care is collapsing under lack of support
– Cash strapped Social Care is barely able to function
– Critical tourist economy is struggling with multiple challenges
– Education is unable to support the most vulnerable children
– Local jobs are precarious
– The lack of affordable housing has become a crisis
– Inadequate public transport and infrastructure across the area
– The cost of living is soaring, driving families to food banks and into poverty
– Torbay has the highest level of deprivation in the South West
So, why is a bid for Levelling Up funds (intended to remove the barriers of deprivation) being made on behalf of a highly successful business turning over more than £41,000,000 a year? Why is a low-value-for-money, limited public-benefit bid being prepared with little transparency? This bid is being prepared on the quiet, in the name of 'Levelling Up', to pay for an extension to Brixham's fish quay. The extension will support greater numbers of ecologically devastating Beam Trawlers and benefit very few beyond the quay itself – it's just a backhander to a (very) destructive industry.
Imagine the damage a net bigger than a jumbo jet does as it drags across the sea bed. Catching everything in its path (whatever that might be), it destroys marine habitats and releases the 'blue' carbon stored there. Also, nets break. And when they do, they are cut free to float across the Ocean killing anything that gets tangled up in them. After they break, another is ready to go, continuing the death toll. This is the reality of bottom trawling.
Beam and Bottom Trawling is so indiscriminately destructive it has just been banned from four Marine Protected Areas around the UK. On the West Coast of America, Beam and Bottom Trawling has already been terminated in a last-ditch attempt to rescue fish stocks.
BLUE CARBON
Currently Bottom Trawling is estimated to emit more CO2 than global aviation.
The type of CO2 Bottom Trawling releases is called Blue Carbon. This is carbon stored in seabed sediments, marine habitats and the fish caught there. When blue carbon sediments are damaged, they can switch from sinks to sources of CO2 and of methane (CH4), a much more potent greenhouse gas. Blue Carbon is also stored in marine animals, so fish taken out of the sea also add to Blue Carbon release. All this contributes to ocean acidification which is threatening to eradicate any marine life with skeletons or shells in the relatively near-term. Countless marine species are now threatened with extinction.
The Ocean currently absorbs carbon from our air but as these carbon levels increase, things change for the worse. "The ocean absorbs a quarter to more than a third of our CO2 emissions every year. So if we increase the CO2 in the water, that will diminish the ability of that part of the ocean to absorb more CO2 from the atmosphere," explains Dr Sala, Explorer-in-Residence, National Geographic. We need the Ocean to continue to breathe. If it stops we'll stop breathing too.
Coastal waters do a lot of carbon capture and storage. Not so long ago Scottish coastal waters were protected from Bottom Trawling by a 'three mile limit'. This was introduced in 1889 to help combat damage to fish populations and protect small-scale fishing boats. The limit was abolished in 1984. Since then coastal waters all around the UK have been under constant attack from bigger and bigger super trawlers. There's no protection for UK coastal waters and marine life. And we're not talking about bearded grey-haired men in tiny tug boats living in harmony with the sea, we're talking massive sea based factories. Most of our fish is caught by SLAUGHTER HOUSE-ON-SEA. Here's a picture of a modern day Captain Bird's Eye boat – yes this one really does catch fish fingers! And the one below is even bigger and it's trawling our waters as you read this. Do you want to see these vessels in Brixham?
MORE CONGESTION, MORE POLLUTION
The Brixham Quay 'levelling up' bid will extend capacity to Brixham fish quay and will generate more congestion and pollution from freight lorries throughout the town, a town with already crowded and narrow streets, threatening the tourist economy and the health and wellbeing of everyone.
The business case for the bid is not clear, hugely costly (up to £20,000,000) and has not been made available for detailed public scrutiny or debate.
Download this pdf from Better Devon to find how you can oppose the Brixham Quay extension bid: DOWNLOAD HERE: betterdevonpack.pdf
Print and paste your support with our print at home posters: bottomtrawlingbw-a3.pdf and don-ttouchmybottombw-a3.pdf
OCEAN REBELLION DEMANDS
The UK government and local government must undertake a proper survey of local needs in areas of increased poverty. We demand long-term thinking. Instead of bank-rolling industrial schemes other solutions to coastal economic depravation must be given priority. Progressive and enterprising solutions are already underway in other countries, solutions like co-operative environmental tourism, urban mining, low impact fishing and vertical sea farming – all schemes which create local jobs and encourage communal resilience. Policies that seek to increase shipping, industrial fishing and just in time supply-chain consumerism must be consigned to the past.
That common sense prevails in Devon and the Brixham fish market model is rolled out across the UK (and EU) ensuring a fair price is paid to fishers without undue haulage pressure being placed on a single location. The Brixham timed fish auction model also needs to carry an environmental guarantee, assuring low-impact fishing methods and a genuinely local catch.
George Eustice must accept responsibility for a lack of rural policies and resign his position as Secretary of State for Environment, Food and Rural Affairs. All the decisions George makes favour big industry and ignore the environment and local communities. Ocean Rebellion cannot recommend a replacement, there isn't anyone trustworthy enough. Instead we propose the post remain empty until there's some real environmental policies and someone with the guts to enact them. Our lives depend on it.
AS THE SEA DIES WE DIE