2022 UN OCEAN CONFERENCE LISBOA
27.06.2022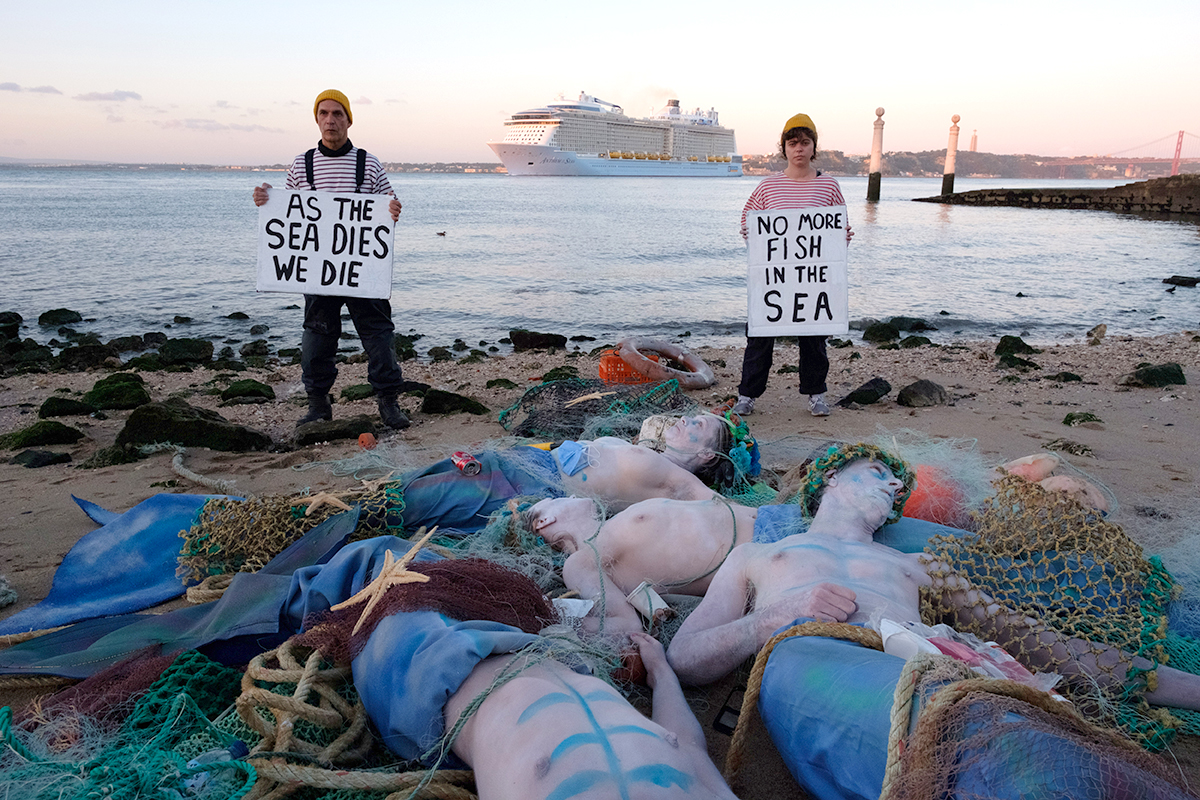 This morning, with the cruise ship 'Anthem of the Seas' polluting the horizon, the first day of the United Nations Ocean Conference dawned.
As the sun rose Ocean Rebellion bore witness as a pod of 'Merpeople' washed up on a beach close to the conference centre. Ocean protectors stood and watched as the merpeople died. Witnesses say the merpeople were travelling to the conference to make a desperate, last-minute plea to world leaders to keep the Ocean alive when a trawler entangled them in its nets. The by-catch 'Merpeople,' complete with tails and crowns made of sea litter, lay dead or dying, washed up and choked by industrial fishing nets.
The performance is taking place after the recent round of negotiations for a new High Seas Treaty ended without agreement. This means ten years of negotiations have failed to produce a result. The world's largest ecosystem, covering over two-fifths of the earth's surface, is still unprotected and is dying.
All life is connected to, and by, the Ocean.
The death of the Ocean is the death of magic, the magic of our imaginations.
The Merpeople represent the 'death of magic' by their entanglement in our cruel industrial fishing methods. They help reconnect us to our childhood wonder of the Ocean and warn us this wonder will soon be lost. They tell the truth about what will happen if we do nothing and continue with business-as-usual – there will be no more fish in the sea.
BOTTOM TRAWLING
Imagine the damage a net bigger than a jumbo jet does as it drags across the seabed. Catching everything in its path (whatever that might be), it destroys marine habitats and releases the 'blue' carbon stored there. Also, nets break. And when they do, they are cut free to float across the Ocean killing anything that gets tangled up in them. After they break, another is ready to go, continuing the death toll.
If the destruction of the wildlife and habitat isn't bad enough in itself, there's the sheer waste—scientists have estimated that bottom trawlers throw away about 50kg of fish for every kg that arrives on land. This is known as bycatch and this environmental slaughter is built into the Bottom Trawling business model.
Humanity has declared war on fish and we're winning. The Ocean is so depleted that small fishing communities are on the edge of survival. Areas once of plenty are now empty.
Industrial fishing

wrecks local fishing
Bottom Trawling is estimated to emit more CO2 than global aviation
O CO2 armazenado nos oceanos é conhecido como Carbono Azul. This is carbon stored in seabed sediments, marine habitats and the fish caught there. When the seabed is damaged by bottom trawling, this blue carbon is released, switching the seabed from a carbon sink to a source of CO2 and of methane (CH4), a much more potent greenhouse gas. Blue Carbon is also stored in marine animals, so fish taken out of the sea also add to Blue Carbon release. If this figure were included in carbon footprint calculations, it's likely that the actual footprint of some bottom trawled seafood would be even higher than any other food, including beef. All this contributes to ocean acidification which is threatening to eradicate marine life, especially those with skeletons or shells, in the relatively near-term. Countless marine species are now threatened with extinction.
Industrial fishing vessels release 159 million tonnes of CO2 each year from the fuel they burn. This is equivalent to the annual amount of CO2 emitted by 40 coal-fired power plants.This figure has risen four-fold since 1950 estimates. Industrial fisheries benefit from government fuel subsidies worth an estimated US$7.7 billion a year. Fossil fuel subsidies for bottom trawling should be redirected to support a transition to low-impact fishing.
O TEMPO PARA FALAR ESTÁ A CHEGAR AO FIM. SÓ A ACÇÃO CONTA
Está tudo muito bem para a ONU fazer declarações como "Infelizmente, tomámos o oceano como certo, e hoje enfrentamos aquilo a que eu chamaria uma emergência oceânica". mas falar é barato. A Ocean Rebellion apela a Peter Thomson, Enviado Especial das Nações Unidas para o Oceano, para que se apresente. Apela ao fim da pesca de arrasto pelo fundo agora, faz planos reais para reduzir a pesca até 80% até 2025 e ajuda as comunidades costeiras em dificuldades a proteger o Oceano que acarinham e compreendem. E se não conseguirem fazer isto, admitam-no. Pare com a conversa inútil e os jogos geopolíticos, diga a verdade e comece uma verdadeira mudança. Chame as empresas e governos que estão a obstruir a salvação do Oceano, e mencione as implicações do que eles estão a tentar alcançar. Precisamos do Oceano para prosperar novamente, à medida que o mar morre, nós morremos.
OCEAN REBELLION DEMANDS:
A ONU deve formar um organismo novo, transparente e representativo para governar o Oceano, em benefício de TODAS as vidas. Este novo organismo deve ter como única medida de sucesso a restauração e o reabastecimento do Oceano. Deve substituir o poder corporativo pelo poder das pessoas. E deve representar as muitas formas de vida marinha que realmente fazem do Oceano um lar.
diz Sophie Miller:
"The Merpeople represent the 'death of magic' by their entanglement in our cruel industrial fishing methods. They help reconnect us to our childhood wonder of the Ocean and warn us this wonder will soon be lost. They tell the truth about what will happen if we do nothing and continue with business-as-usual – there will be no more fish in the sea."
Rob Higgs says:
"A humanidade declarou guerra aos peixes e nós estamos a ganhar. O Oceano está tão esgotado que as pequenas comunidades piscatórias estão no limite da sobrevivência e as áreas de outrora abundantes estão agora vazias. Mais de 100 milhões de pessoas dependem da subsistência em terra e da pesca artesanal em pequena escala para a sua alimentação diária e subsistência - muitas vezes utilizando as mesmas águas visadas pelos arrastões de fundo. Não é fácil proibir a pesca de arrasto pelo fundo tanto em zonas de ruptura climática como em zonas de ruptura natural. A ruptura climática e a ruptura da natureza são efectivamente a mesma coisa e ambas têm de ser travadas agora".
Chris Armstrong adds:
"A governação dos Altos Mares é um desastre ecológico. Os seus princípios fundadores foram sonhados numa época em que pensávamos que a recompensa do oceano era inesgotável, e os seus ecossistemas demasiado robustos para nunca falharem. Agora levámos essa ideia para além do ponto de ruptura. Precisamos urgentemente de uma revolução na política do Alto Mar, com protecção e participação em substituição da pilhagem corporativa".
Suzanne Stallard acrescenta:
"A ONU fala muito bem. A Organização Marítima Internacional e a Autoridade Internacional dos Fundos Marinhos, ambos organismos da ONU, são inadequados para o efeito. Ambos são totalmente corrompidos pela indústria e ambos governam o Oceano em nome da indústria. Vivemos numa era de degradação ecológica sem precedentes, a ONU deve reconhecer isto através da governação e não apenas por palavras. Pedimos à ONU que chame as suas subsidiárias desonestas, mais prejudiciais à vida na terra do que os estados desonestos".
Roc Sandford acrescenta:
"As the seas die, we die, and the seas are dying. If the collapse of marine biodiversity is not halted immediately, release of blue carbon currently sequestered in the oceans will accelerate climate breakdown and condemn countless people to an agonising death. We must rush reforms of the existing UN ocean-focussed structures, currently criminally unfit for purpose, whilst simultaneously building a new and effective ocean governance body to take their place. It's now or never. I don't understand why everyone isn't screaming, given what we know about what is happening in the Ocean."
Fotos: João Daniel Pereira.