LA ONU NO ES APTA PARA EL PROPÓSITO
28.06.2022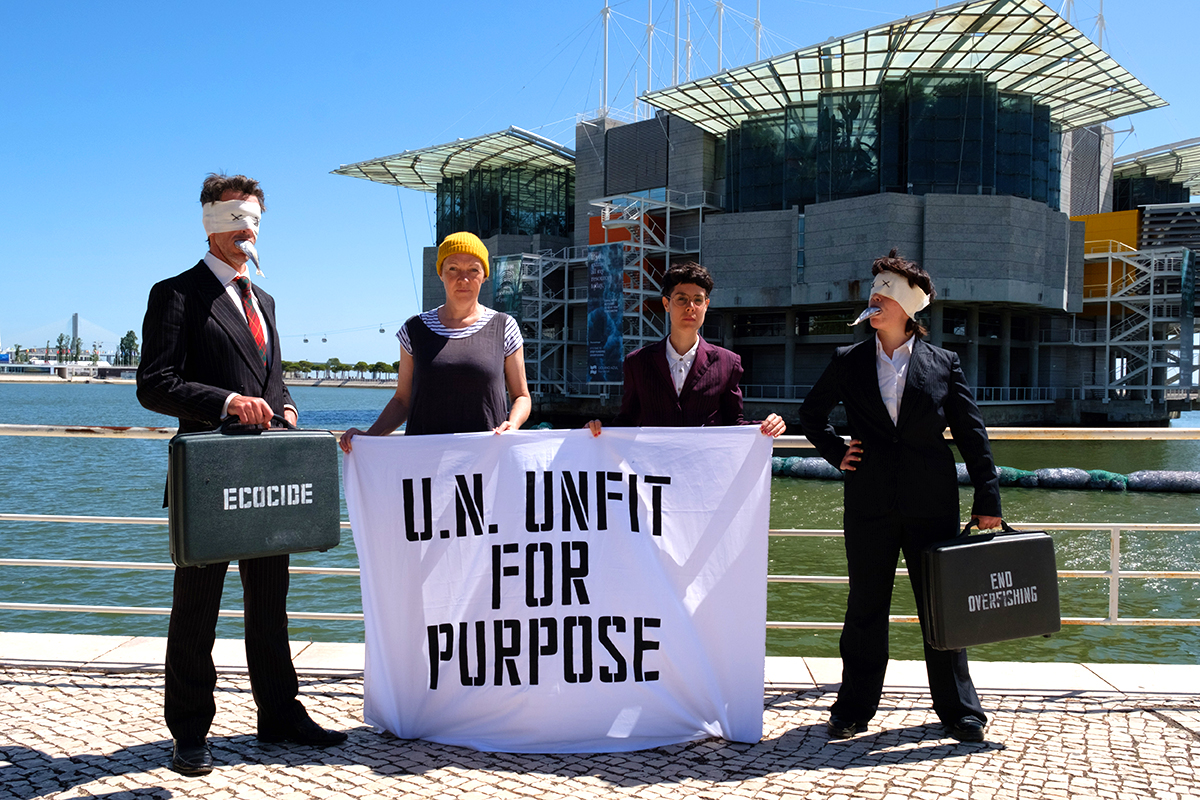 Today three members of Ocean Rebellion stood in front of the United Nations Ocean conference in Lisbon. Their heads were bound and made sightless by bandages, their mouths gagged by a dead fish.
The performance highlights the plight of the high seas and all Ocean life. It describes the blindness of the UN, and nation states, to the degradation of the Ocean and the need for an ambitious UN High Seas Treaty.
BLIND TO THE TRUTH
The bandaged eyes are the sightless eyes of the UN International Maritime Organisation (IMO) and the UN International Seabed Authority (ISA). Blinded by a subordination to industry their inaction furthers the destruction of the Ocean.
The gagged mouths are the silenced mouths of the UN negotiators involved in the failure of the UN High Seas treaty, and its passage through the UN processes which allow self-named 'developed' nations to block reform.
We call on all UN delegates to hang their heads in shame: you are blind, gagged and unfit for purpose.
SÓLO CUENTA LA ACCIÓN
With the UN IMO and ISA bodies complicit in the destruction of the Ocean and the failure of a treaty to protect the High Seas (or the likelihood of a treaty which certainly won't protect the high seas) isn't it time for the UN to put its collective hands in the air and declare 'this isn't working'? It's all very well for the UN to make statements like 'arson of our only home' but talk is cheap. Stop the pointless talk and geopolitical gaming, tell the truth, sit down afresh and start real change. Call out the companies and governments who are obstructing the saving of the Ocean, and name the implications of what they are trying to achieve. We need the Ocean to thrive again, as the sea dies we die.
La Rebelión del Océano exige:
La ONU debe formar un nuevo organismo, transparente y representativo, que gobierne el Océano en beneficio de TODA la vida. Este nuevo organismo debe tener como única medida de éxito la restauración y reposición del Océano. Debe sustituir el poder de las empresas por el poder de las personas. Y debe representar a las muchas formas de vida marina que realmente hacen del océano un hogar.
Tell the

Truth

Chris Armstrong says:
"The governance of the High Seas is an ecological disaster. Its founding principles were dreamt up in a time when we thought the ocean's bounty was inexhaustible, and its ecosystems too robust to ever fail. We have now pushed that idea beyond breaking point. We urgently need a revolution in High Seas politics, with protection and participation replacing corporate pillage."

Sophie Miller adds:
"Ocean Rebellion has visited the IMO many times, each time with a different issue but all related to mismanagement and fossil fuels. The first time it was Wakashio, the oil disaster that decimated the Mauritian coast. Then it was Fossil fuel lobbying and ties to the Baltic Exchange and fake shipping laws. Next it was HFO and insider influence at the hands of actual representatives like 'Captain Ian Finlay'. It just goes on – the IMO is useless, what's the point of them? They don't even protect seafarers, all they do is greenwash shipping profits"

Clive Russell añade:
"La Autoridad Internacional de los Fondos Marinos (ISA) de la ONU es claramente inadecuada para su propósito. ¿Cómo encaja con los objetivos de la ONU para el futuro de este planeta el hecho de diezmar los fondos marinos, liberar el carbono almacenado en los sedimentos de las profundidades y perturbar el mayor ecosistema de la Tierra (y el más inalterado)?

Suzanne Stallard añade:
"La ONU habla mucho. La Organización Marítima Internacional y la Autoridad Internacional de los Fondos Marinos, ambos organismos de la ONU, no sirven para nada. Ambos están totalmente corrompidos por la industria y ambos gobiernan el océano en nombre de la industria. Vivimos en una época de colapso ecológico sin precedentes, la ONU debe reconocerlo mediante la gobernanza y no sólo con palabras. Pedimos a la ONU que llame a filas a sus filiales canallas, más perjudiciales para la vida en la Tierra que los Estados canallas".

Roc Sandford adds:
"As the seas die, we die, and the seas are dying. If the collapse of marine biodiversity is not halted immediately, release of blue carbon currently sequestered in the oceans will accelerate climate breakdown and condemn countless people to an agonising death. We must rush reforms of the existing UN ocean-focussed structures, currently criminally unfit for purpose, whilst simultaneously building a new and effective ocean governance body to take their place. It's now or never. I don't understand why everyone isn't screaming, given what we know about what is happening in the Ocean and what that means for us."

Photos: João Daniel Pereira. 'U.N. UNFIT FOR PURPOSE' Illumination of the Torre de Belém, Lisbon, during the UN Ocean Conference 2022.

El destino del Océano depende de todos nosotros.
Our interventions depend on support.