Supermarket Sticker Sweep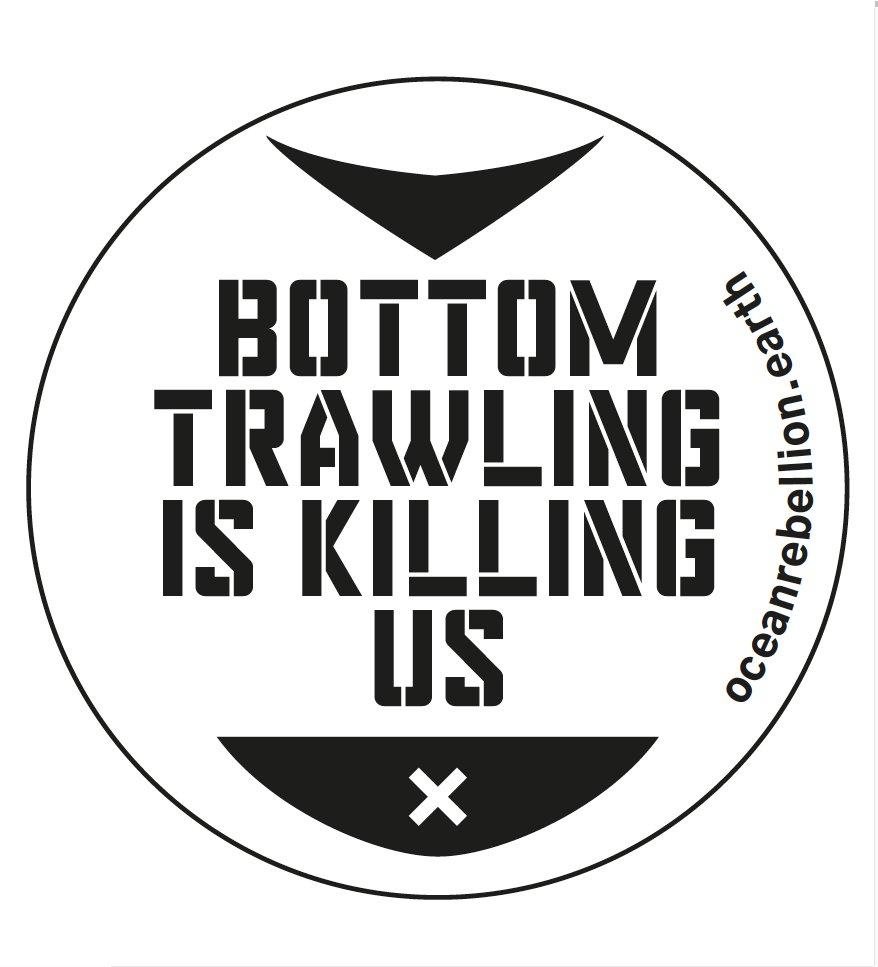 JOIN OUR SUPERMARKET RE-LABELLING SCHEME AND HELP TELL THE TRUTH ABOUT SEAFOOD
The Ocean Rebellion labelling system is a new, honest, 'certification' scheme that helps consumers make informed seafood choices.
You don't have to pay to use it (like you do with the Marine Stewardship Council), nor do we have any un-policed sustainability standards (like you do with the Marine Stewardship Council), instead it's a truthful account of industrial fishing.
There are some rules though.
The first rule – you must enjoy using the labels.
The second rule – not all labels can be used on any fish. It's a scheme after all and we do have standards (unlike the Marine Stewardship Council).
Here's a short breakdown of where to use the labels:
The set above can be used on any fish. They describe Industrial Fishing methods. Especially BOTTOM TRAWLING IS KILLING US. Bottom trawling is so destructive it wipes out entire marine ecosystems.
This set is a bit more tricky. 'I'VE BEEN BOTTOM TRAWLED' is best used on marine (ex)life like Cuttlefish, Dover Sole, Haddock, Monkfish, Scampi, Shrimp, Squid and Flatfish. 'ONE 100KM LINE CAUGHT MY WHOLE SHOAL' is for industrial line fishing. The stickers, 'THE PLASTIC IN ME CAME FROM YOU', 'I EAT TOXICS YUM' are for large fish like tuna (tinned too) and can be used on farmed fish like salmon. 'STOP FISHING ME NOW' is for sea food like scallops (dredging is very destructive) and anything that looks exotic / endangered. It can be used on any fish too – it's the fish talking after all!
HOW TO MAKE YOUR STICKERS
First download the stickers here:
In the download there's a choice of different stickers. There's twelve in all and some are repeated. Choose which stickers you want.
Once you've made a choice visit the website below:
If you're outside the UK search for 'custom multiple design stickers'.
Choose 'Waterproof' white vinyl from the selection (or any other you prefer but the sticker must be round). Select a 'finish', we prefer MATT. And select whether you want a permanent or removable sticker. Choose how many designs you want to print (up to 12) then add the dimensions '63mm' and select your required quantity. You should now be given a quote.
Now all you have to do is upload the artwork using the dialogue box and fill in your details.
Alternatively you can print the stickers at home.
If you can't do either of these contact us and we'll see if we can help.
Please share your stickering on social media using the hashtags below:
#DontTouchMyBottom
#NoMoreFishInTheSea
#BottomTrawlingIsKillingUs
#AsTheSeaDiesWeDie
#LetsCountBlueCarbon
And let us know:
@oceanrebellion
The fate of the Ocean depends on us all.
Our interventions depend on support.