INDUSTRIAL FISHING 15 – NATURE 13
24.05.2023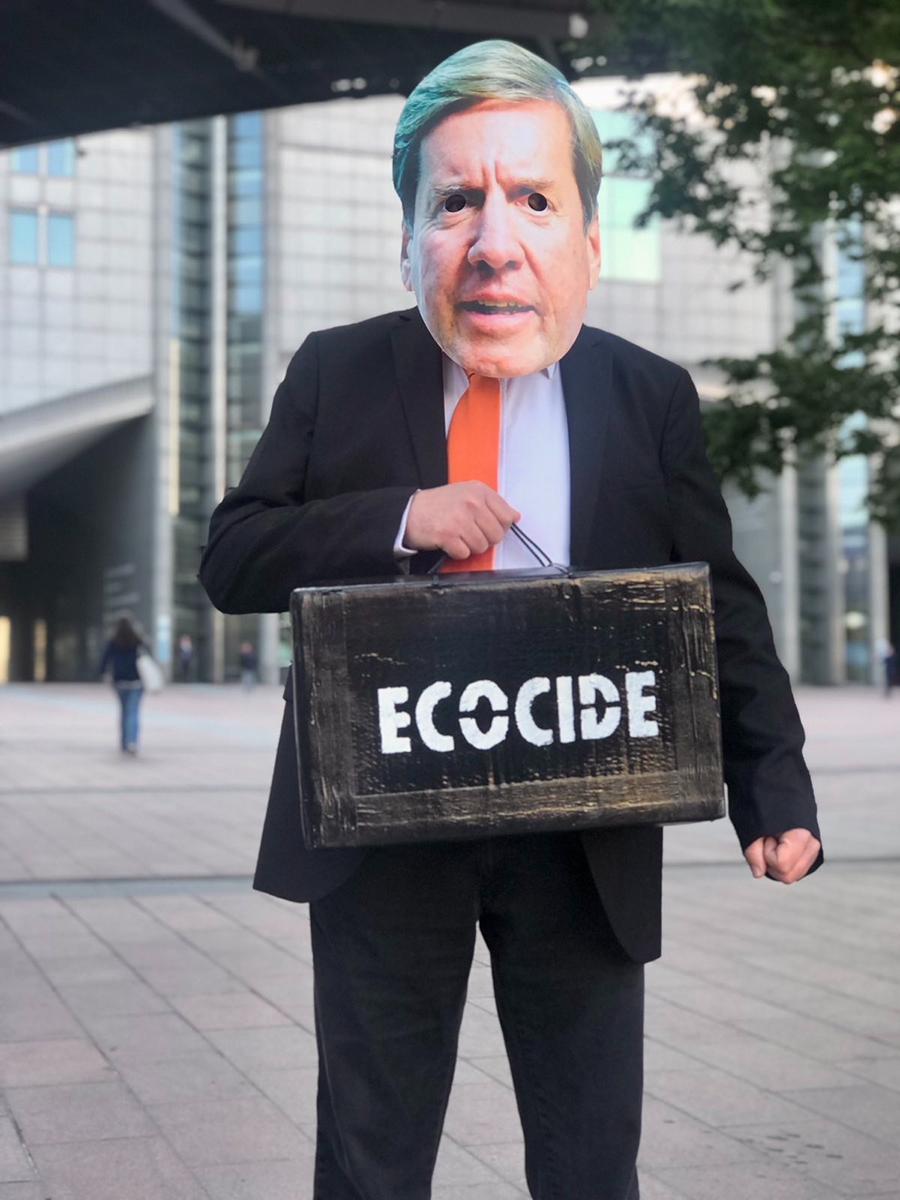 At 7:30, Wednesday May 24, three suspicious characters were spotted loitering on the Pl. du Luxembourg ahead of the crucial vote on the Nature Restoration Law at the EU Parliament.
The three people were MEPs Gabriel Mato Adrover (ES), Bert-Jan Ruissen (NL) and Jan Huitema (NL), all members of the PECH Committee. Two of the trio carried a briefcase of ECOCIDE, another a briefcase containing the new NATURE RESTORATION LAW.
The MEPs were on their way from a meeting with lobbyists to the PECH Committee meeting, intent on continuing to support Industrial Fishing by voting down the new Legge sul ripristino della natura (LNR) in the EU Parliament.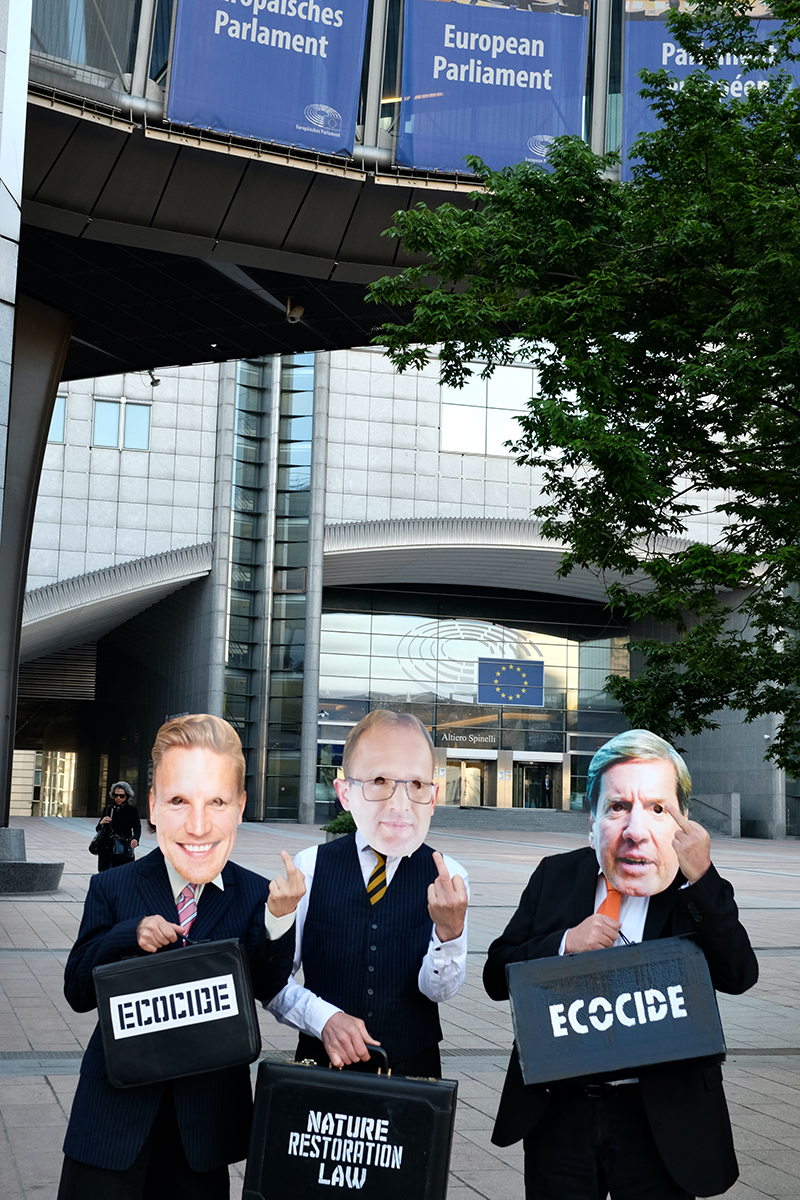 As predicted our three Industrial Fishing lovers gave the middle finger to nature and the Ocean. Their contempt for ambitious new thinking and their desire for business-as-usual is matched only by their contempt for their citizens concerns for the environment.
Needless to say the EU Fisheries Committee voted 15 – 13 against the Nature Restoration Law, despite desperate attempts by other MEPs to intervene on behalf of small-scale local fishers.
Il destino dell'Oceano dipende da tutti noi.
I nostri interventi dipendono dal vostro sostegno.
Che cos'è la Legge sul restauro della natura?
Nel giugno dello scorso anno, la Commissione europea ha presentato la nuova legge sul ripristino della natura, che per la prima volta introduce obiettivi giuridicamente vincolanti per ripristinare gli ecosistemi degradati e invertire la perdita di biodiversità. La nuova legge fissa l'obiettivo per tutti gli Stati membri di ripristinare 20% delle terre e dei mari dell'UE entro il 2030.
Unfortunately, as things stand, the conservation measures contained in the NRL can be blocked by Member States who want to continue industrial fishing and the war on fish. This is because the NRL still uses the dysfunctional legal process contained within the Common Fisheries Policy (CFP). If this happens the NRL is not a law, instead it becomes the Nature Restoration Fishing Option – opt in or out, it's your choice. And we know where that will lead – EU governments will opt out, preferring easy CFP economic wins over the harder decisions required to save life in the Ocean and create a better future for coastal communities.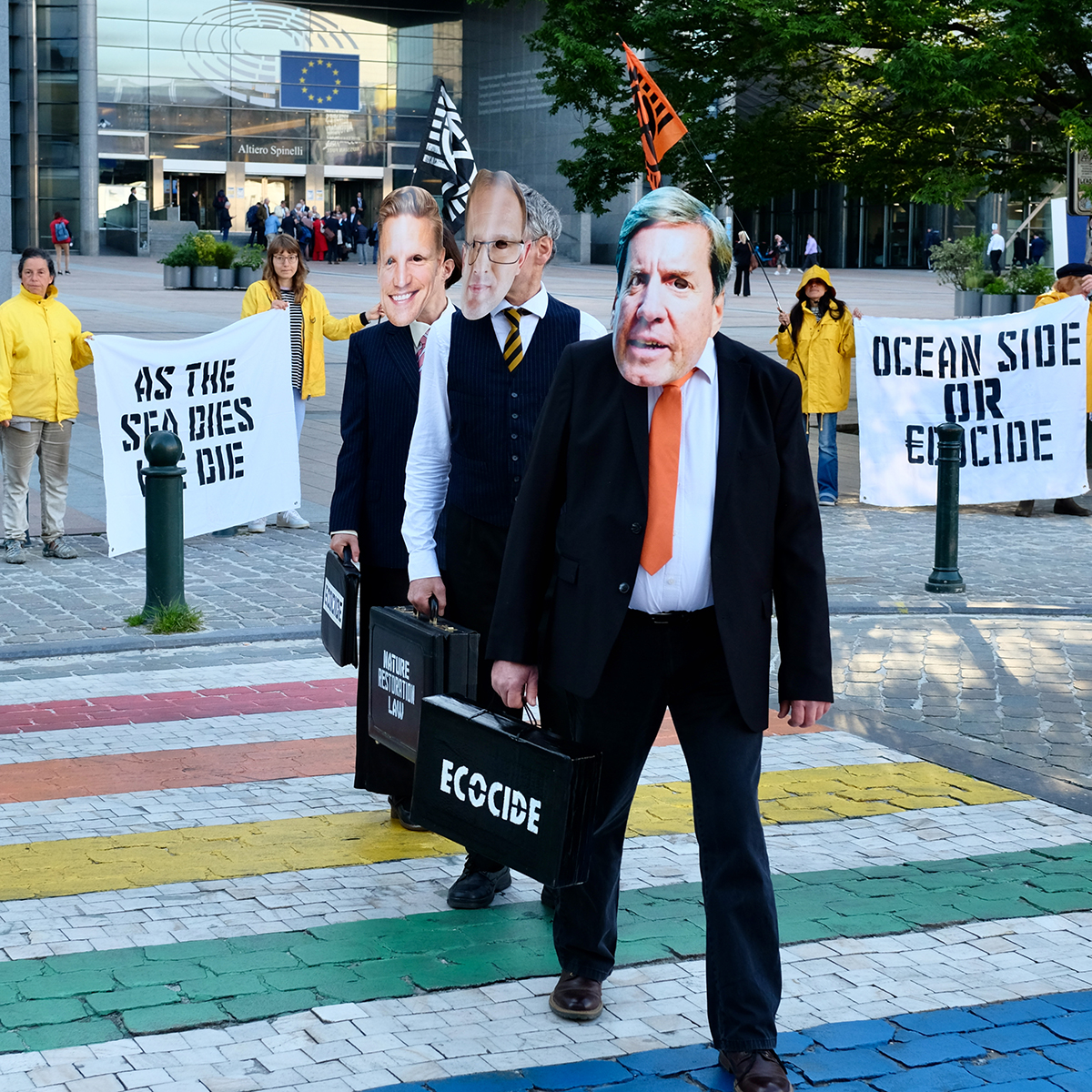 Today was a very good day at the office for our three amigos, Jan, Bert e Gabby.
In theory, as members of the Comitato PECH, their job is to look after EU fish by ensuring the CFP tools required for dealing with climate and biodiversity challenges we are facing are implemented. But it seems that PECH doesn't like the fish. It refers to them as 'fish stocks'. And when scientists warn PECH that 'fish stocks' are crashing PECH seeks alternative advice from Industrial Fishing lobbyists who tell them everything is fine.
The Chair of the PECH Committee is Pierre Karleskind (FR).
We ask Pierre, as Chair, to lead the PECH Committee to a new dawn of responsible fishing policies. Pierre must stop listening to EPP colleagues, like Gabby, who are only interested in spinning arguments about local jobs and food security (while actually supporting big business).
It's time for PECH to think creatively about the concerns surrounding fishing jobs – the Nature Restoration Law (NRL) might be the best vehicle to do this. It offers the chance to put fishing communities at the top of the agenda by linking them to a meaningful law (NRL). What if coastal fishing communities are test beds for reddito di base? And this basic income is the chance for locals to care for their local environment, care for the place they live?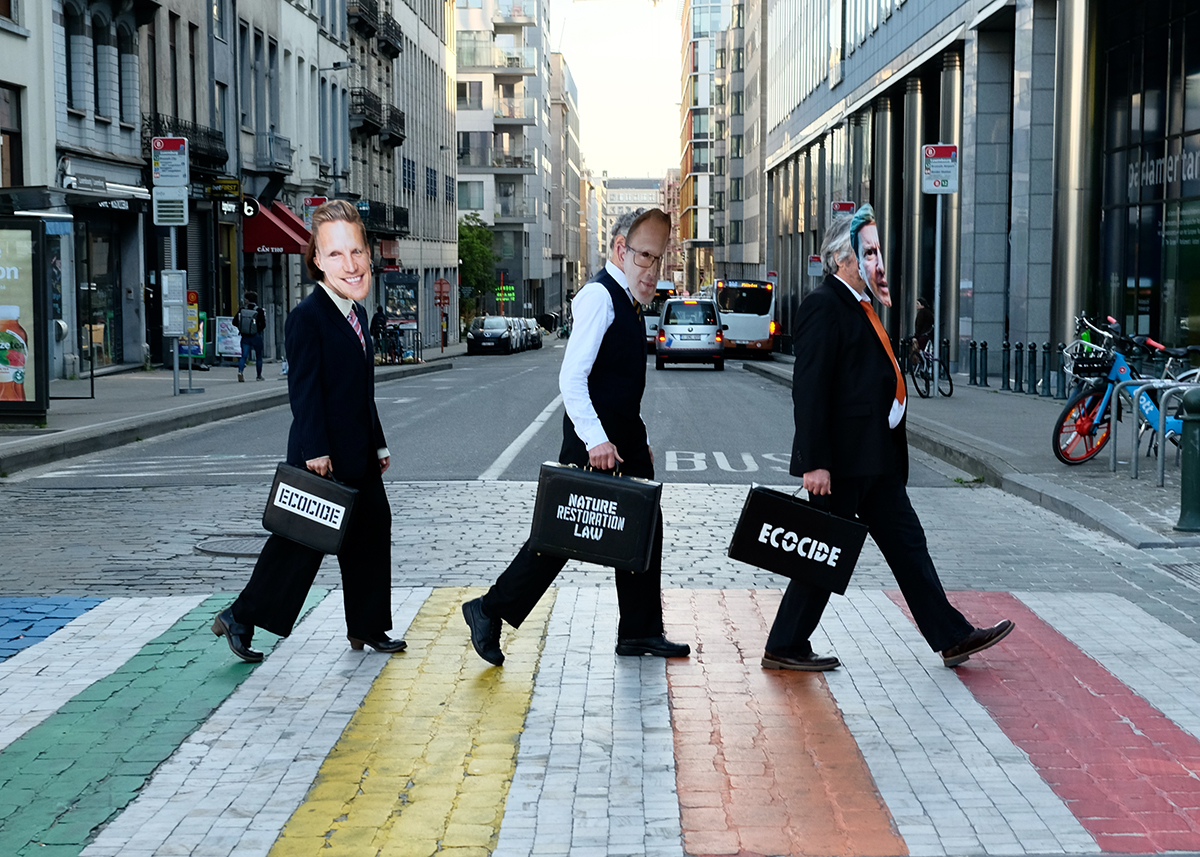 Like the Beatles the PECH Committee must cross the road and walkaway from its past endeavours. The Ocean cannot sustain the levels of fishing industrial fishing demands – there is no such thing as sustainable industrial fishing. If we continue as we are there will be no more fish in sea.
Ocean Rebellion chiede al Parlamento e al Consiglio dell'UE di sostenere pienamente la LEGGE SUL RIPRISTINO DELLA NATURA, compresa la proposta di rendere gli Stati membri legalmente responsabili del ripristino della natura, dando ai cittadini dell'UE il diritto di citare in giudizio gli Stati membri in caso di inadempienza.
Ocean Rebellion chiede inoltre che il Parlamento europeo includa la pesca tra i principali responsabili del degrado degli oceani all'interno della NRL, sottolineando questa inclusione con il divieto della pesca a strascico in tutte le acque dell'UE, e si impegni a ridurre la pesca di 80%, ponendo fine alla pesca industriale e responsabilizzando le comunità costiere attraverso la promozione di una pesca tradizionale a basso impatto e ad alta intensità di manodopera e incentivando la cura degli oceani.
EU Member States must show courage to face down the rich lobbyists, create sustainable jobs and restore the dying Ocean.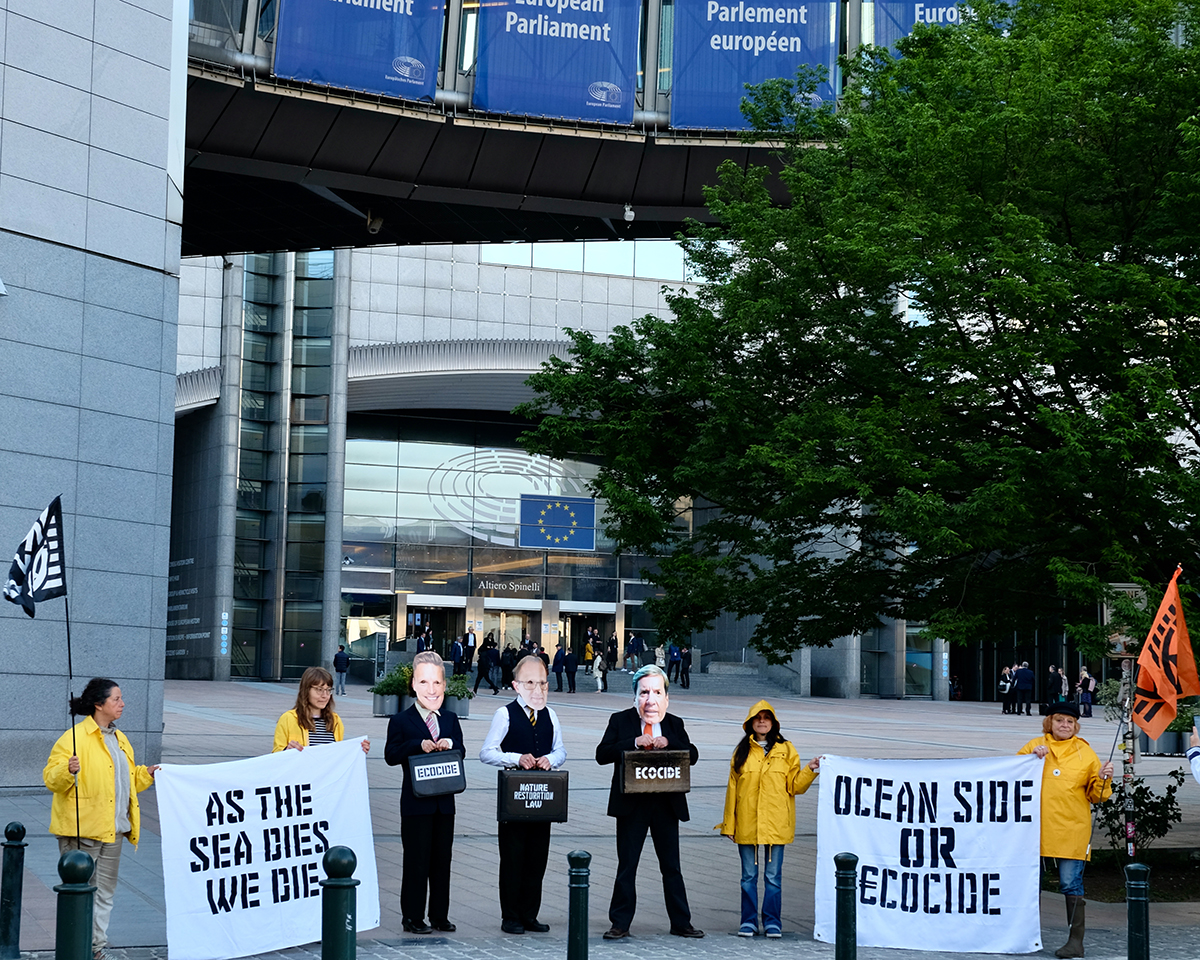 QUOTES
Suzanne Stallard di Ocean Rebellion dice:
"The Nature Restoration Law must include fishing measures. Industrial fishing is destroying marine life and habitats, it must end now. Gabriel Mato's talk of ignoring the protection of the environment on behalf of socio-economic considerations and food security is just sleight of hand – carrying on with business-as-usual is not an option. Both these problems are best solved using the Nature Restoration Law as a force for major changes to the way we live with each other and our environment. "
Sophie Miller aggiunge:
"This is a chance for the EU to show the world what meaningful change can look like. But the Nature Restoration Law doesn't go far enough, we need 80% restoration and only careful extraction by local people who understand their environment."
Stefanie Wels adds:
"We have eaten almost all of the wild protein on the land, we are now on track to do the same to the oceans. This means we will leave them empty and depleted of the fish that once swam freely. We must protect the fish, we must end bottom trawling and industrial fishing now to give fish populations a chance to recover. Because of the carbon stored by marine organisms, marine biodiversity breakdown and the climate emergency are more or less the same thing. We can't solve one without the other, and killing off the oceans will end any realistic chance of saving the climate and our societies."
Clive Russell, anch'egli di Ocean Rebellion, aggiunge:
"Humanity has declared war on fish and we're winning. The Ocean is so depleted that small fishing communities are on the edge of survival and areas of former plenty are now empty. Over 100 million people rely on inshore subsistence and small-scale artisanal fishing for their daily food and livelihood − often using the same waters targeted by bottom trawlers. We must reduce fishing by 80% by halting industrial fishing. Climate breakdown and nature breakdown are effectively the same thing and both have to be stopped now."
---
Il destino dell'Oceano dipende da tutti noi.
Vi faremo sapere cosa stiamo facendo per aiutarvi.
Photos: Stéphane Lagasse